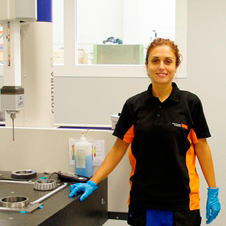 What do cars, cranes, diggers, trains, mining excavators and combine harvesters have in common? All of these vehicles use bearings to keep the machinery moving. NBI Bearings Europe is one of the leading bearings companies in Spain providing these valuable parts to industrial sectors including the oil and gas, agriculture, iron and steel industries. NBI Bearings' unique selling point is the special design it uses which protects the bearings from dirt and mois­ture and allows them to maintain the grease inside. Research and development is at the core of the company's strategy, with technicians from Universities including the Technical University of Valencia and Deusto in Bilbao, looking at new types of material, techniques and quality control for their bearings. NBI Bearings Europe employs 32 staff who currently cover markets in 50 countries and the company is planning to expand in the near future.

Bankinter is a commercial bank in Spain and belongs to the so-called "Zero Group", consisting of the most solvent institutions, with a capital surplus of €399 million in the stress scenarios to which it was subjected in Spain.
Bankinter is a key institution in the financial market, thanks to its advanced technological development, quality service for the sector and a clear commitment to innovation and the use of alternative channels in its dealings with customers. Bankinter was recently named the Spanish bank with the best reputation and best range of products and services, by the Reputation Institute's RepTrakTM Pulse España 2012 study.
The EUR 500 000 working capital loan granted by Bankinter in Spain with a 50% EIF guarantee under the Risk Sharing Instrument (RSI) allowed NBI Bearings Europe to expand its research and development facilities and to take on 6 new members of staff for its technical plant. The RSI guarantee funded by the EU Commission perfectly complements the national research promotion schemes in Spain and helps the company to implement additional R&D projects and to achieve faster growth.
Company: NBI Bearings Europe, Spain
Type of business: bearings company
EU-supported loan through Bankinter: EUR 500 000
For further information about EIF intermediaries in Spain, please refer to:
http://www.eif.org/what_we_do/where/es