Coming up next
The next ETCI roadshow (public presentation) will be held on 5 February in Brussels, hosted in collaboration with the Belgian Contributing Partners. On social media, all updates under #ETCI.
13 June 2023 – The local presentation of ETCI is hosted in Berlin, Germany
Germany is already home to world-class companies and industries with access to solid technical and financial infrastructures. To enable future European tech champions to play an equally significant international role, Germany has been one of the first contributors to the ETCI.
At our event in Berlin, Minister Lindner shared why ETCI is important for Germany, and for Europe.
29 March 2023 – The first ETCI Roadshow takes place in Madrid, Spain
We were pleased to welcome a full room of venture capital market participants in Madrid, Spain, including a presentation on the ETCI initiative by the EIF's Adrian Zambrano. Opening remarks by State Secretary Carme Artigas, ICO President José C. García de Quevedo – here on stage with EIF Chief Executive Marjut Falkstedt.
"With this initiative we are closing the investment circle for #scaleups and make sure they can become #unicorns in Europe" said Secretary of State Carme Artigas at the event.
14 February 2023 – EIF Chief Executive Marjut Falkstedt welcomes the new ETCI cooperation
EIF research has shown that high-growth companies in pre-IPO phase typically need funding of more than €40 million. At least 50% of this scale-up financing has come from non-European investors in the past. We want to change that.
In the context of ETCI's launch, EIF CE Marjut Falkstedt said: "Innovative businesses need to be able to find the equity capital they need right here in Europe". "As manager of the ETCI, we will be using our scale and expertise to nurture a sustainable late-stage growth ecosystem capable of supporting homegrown innovation."
13 February 2023 – Launch of the European Tech Champions Initiative in Brussels
Five EU Member States (Belgium, France, Germany, Italy and Spain) and the European Investment Bank Group (the EIB and the EIF) sign the ETCI mandate agreement, a new fund of funds channelling late-stage growth capital to promising European innovators.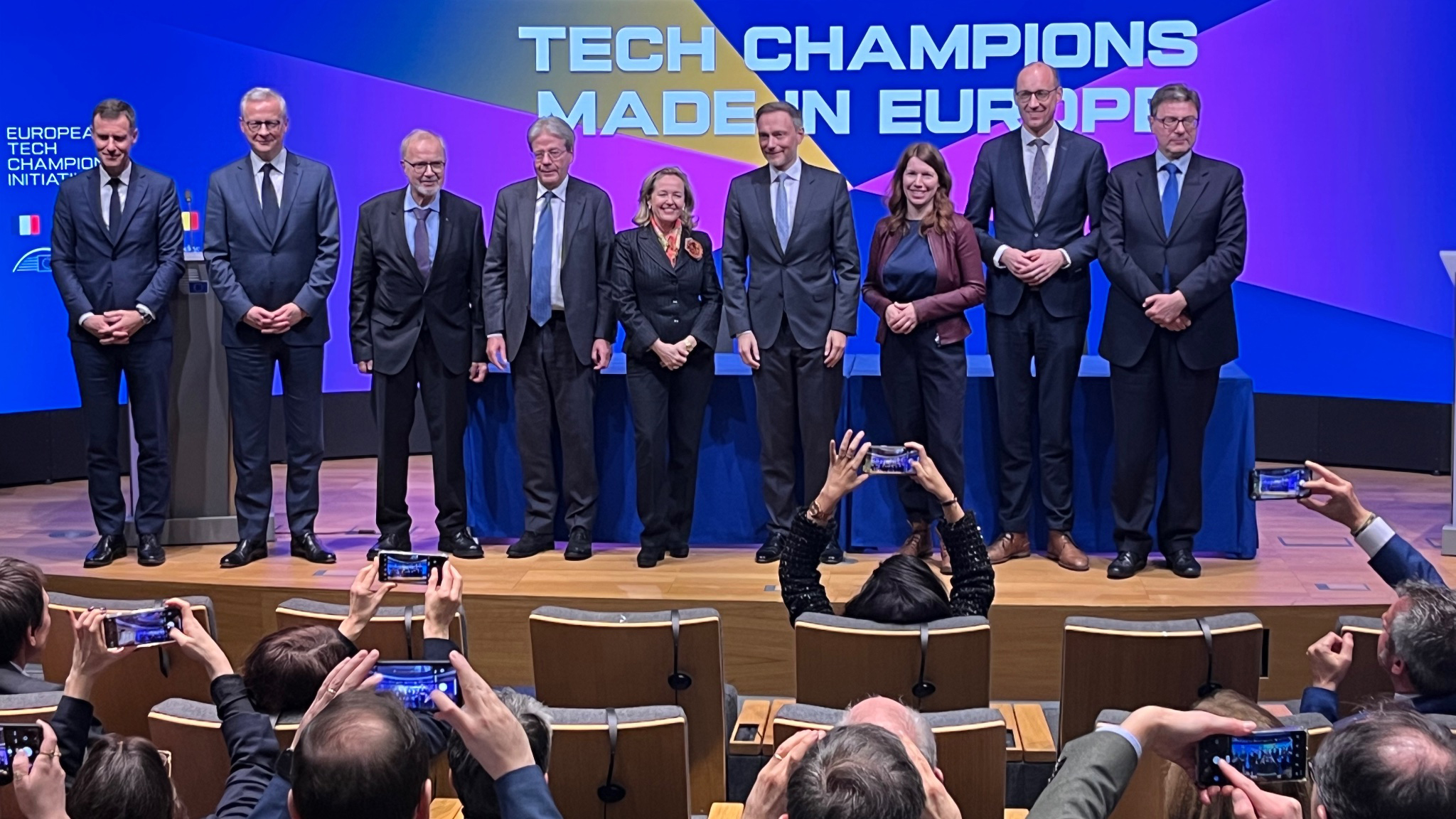 All eyes on stage for the funding partners of ETCI, including (from left to right): Minister Bruno Le Maire (France), EIB Group President Werner Hoyer, Commissioner Paolo Gentiloni (EU), Vice-President Nadia Calviño (Spain), Minister Christian Lindner (Germany), Minister Vincent van Peteghem (Belgium) and Minister Giancarlo Giorgetti (Italy)
Read the press release: https://www.eif.org/what_we_do/news/2023/launch-of-new-fund-of-funds-to-support-european-tech-champions.htm
9 February 2022 – The concept of a pan-European scale up initiative is unveiled
During a summit organised under the French Presidency of the Council of the EU, the concept of a new pan-European funding initiative for European scale-ups is presented. Representatives of France and Germany propose pooling resources from participating Member States and the EIB Group to mobilise investments into large-scale venture capital funds. This aims to tackle a significant growth financing market gap in Europe - the new initiative shall be managed by the EIF.
Read the press release: https://www.eif.org/what_we_do/equity/news/2022/eib-supports-the-pan-european-scale-up-initiative-to-promote-tech-champions.htm
Discussion on a Pan-European Scale Up Initiative – here with Minister Bruno Le Maire and Christian Lindner at the French Presidency of the Council of the EU
Press releases
Launch of new fund of funds to support European Tech Champions – 13 February 2023
A venture capital injection for European technology – op-ed by EIB VP Gelsomina Vigliotti