Baltic Innovation Fund 2 (BIF 2) is a EUR 156m Fund-of-Funds initiative launched by the EIF in co-operation with the Baltic national promotional institutions – KredEx (Estonia), Altum (Latvia) and Invega (Lithuania). It is building on the success of its predecessor programme, BIF 1.
BIF 2 continues to sustain investments into private equity and venture capital funds focused on the Baltic States over a period of 5 years – following its signature in July 2019 – to boost equity investments into SMEs with high growth potential.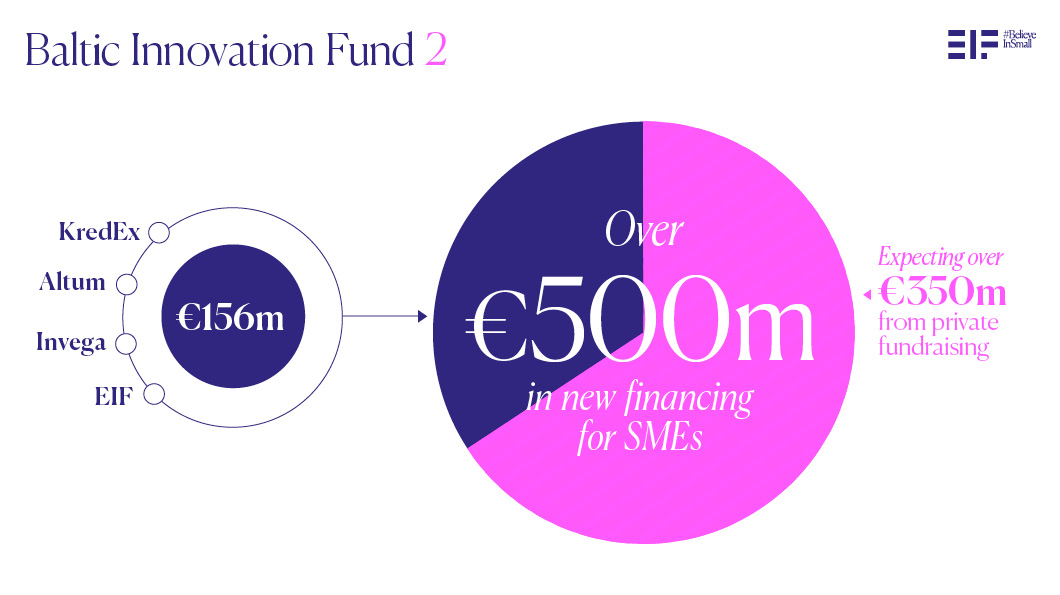 What is BIF 2's investment strategy?
BIF 2 aims to build a balanced portfolio of growth and later stage venture funds with an investment focus on the Baltic States. Co-investment opportunities may be also considered.
The EIF, as manager of BIF 2, openly considers the following investment opportunities:
Investments into venture capital and private equity funds (including hybrid debt-equity funds) with proven experience and insight into the Baltic market;
Co-investments alongside investment funds, family offices, business angels or institutional investors into early to growth phase SMEs. BIF 2 co-invests with selected investors, which are domiciled in the Baltic States, or provide for a relationship with the Baltic ecosystem, or are considering investments into the Baltic States.
How to apply for BIF 2? 
Both funds and direct co-investments need to satisfy a strict set of investment criteria in line with the EIF's normal investment process.
We are looking for qualified and credible partners with a proven track record in this field. You can consider applying for BIF 2 investment if you fulfil, amongst others, the following criteria:
Your investment strategy focuses on the Baltic States
Please outline and explain how the proposal fits in the current competitive landscape, which sector(s) and stage is the fund targeting and why; and how the know-how of the team matches the BIF 2's investment strategy;
Your team is well-balanced
Team members complementing each other in terms of skills and experience, with a proven ability to work together. Furthermore, your team is either located/domiciled in the Baltic States, or in case of international venture capital/private equity funds focusing on the Baltic States, an appropriate local team should exist or should be established in the Baltic States. Emerging and/or first time teams would be also considered.
Your track record proves adequate experience in the targeted investment area
Previous investments will be carefully analysed in order to understand the team's investment capabilities.
Your fund is capable of attracting further private finance
From other investors, e.g. pension funds, insurance companies, other fund-of-funds, which will at least double the amount of investment capital required. Crowding in additional resources is an essential criterion for all EIF financial instruments.
Your fund size is commercially viable
You demonstrate the ability to ensure the team's stability and the fund's investment capacity.
You are committed to transparency
The legal and tax structure of the fund should be clear and transparent according to the market standard terms and conditions.
Your stakeholders speak with one voice
The interests of all stakeholders in the fund are fully aligned.
Read more about the details to include in your investment proposal
Further information for SMEs:
If you are looking for funding, you can contact the funds in which BIF 1 or BIF 2 has invested. Updates on BIF 2 investments will be published here in due course.
For a list of the financial intermediaries currently cooperating in the Baltic market, please visit http://www.eif.org/what_we_do/where/index.htm Please contact the intermediary directly to find out about eligibility criteria and financial conditions.
For information about finance available under further EU initiatives, please visit http://europa.eu/youreurope/business/funding-grants/access-to-finance