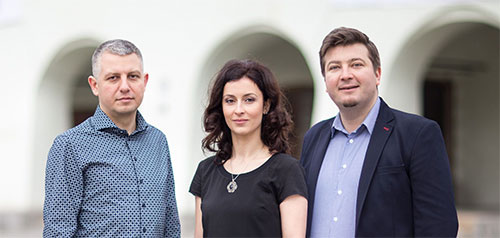 SmartBill offers software-as-a-service solutions in invoicing and inventory management. It's the brainchild of three Romanian friends, who wanted to run their own business ever since, in their early 20s, they started coding websites and doing outsourced work for international clients. "All we had when we started was programming know-how and a will to succeed. No business experience, no support, no money." explains co-founder Mircea Capatina.
In 2007, upon joining the EU, Romanian legislation changed to allow invoices to be issued digitally. This was a turning-point: "We saw this as a great opportunity", Mircea explains. "The old manual methods of using standardised paper-invoices were impractical, so we started working on software solutions that improved things, first for ourselves and then for the market."
The company's solutions in invoice and inventory management were well-received by customers and they started to gain traction. In 2014, SmartBill launched a cloud version of the software. "The shift wasn't easy. We were thinking of the cloud way before our clients were comfortable about using it. It took a while to catch on, but now 95% of our clients use it and we are growing steadily" says Mircea.
The next step for SmartBill was to invest in an accounting module. "With inventory and invoicing covered, it felt almost as if we went A-to-T, not A-to-Z. With a full-accounting module, we would be closing the circle" he explains. To develop the accounting module, the company turned to Catalyst Romania, a private equity and venture capital fund backed by EIF, who made an important investment in the business.
This investment allowed the company to expand the team to develop the new product. "We hired around 20 engineers but in the long run the impact in terms of jobs should be even greater if we keep growing at the current rate of 50% per year", Mircea says.
Looking back, he has no doubts that the investment was key: "Today, there are more opportunities for start-ups and innovative businesses in Romania. At the time, it wasn't easy to find mid-stage investment. Catalyst's involvement was critical, both in terms of funding, but also in terms of boosting our image, offering advice and bringing new perspectives to the board. I hope our story inspires others that this is possible in Romania today."
Company: SmartBill (Romania)
Financial Intermediary: Catalyst Fund
Type of business: ICT
EIF financing: JEREMIE Romania
For further information about EIF intermediaries in Romania, please refer to: http://www.eif.org/what_we_do/where/ro