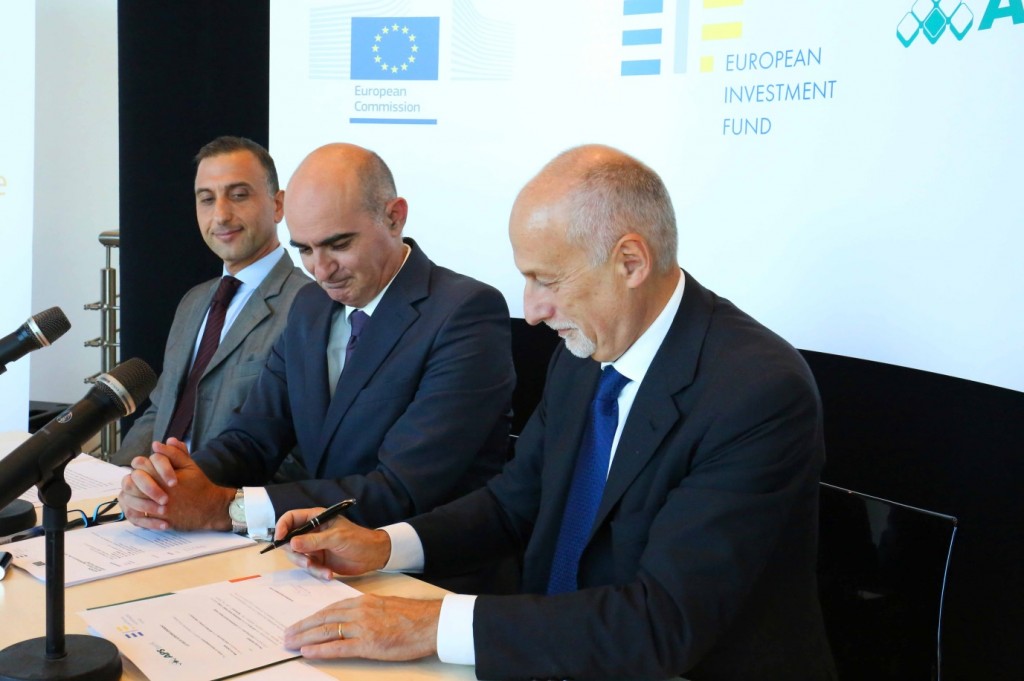 The European Investment Fund (EIF) and APS Bank Limited (APS) have signed the first SME financing agreement in Malta under the European Fund for Strategic Investments (EFSI), the heart of the Investment Plan for Europe.
The agreement will allow APS to provide low-cost loans to innovative SMEs in Malta over the next two years. EIF's guarantee is provided under the "EU InnovFin finance for Innovators" initiative with the financial backing under Horizon 2020, the EU Framework Programme for Research and Innovation. The agreement would not have been possible so soon without the backing of the Investment Plan.
This deal is the first activity under the Investment Plan for Europe in Malta. Just over a year after the European Fund for Strategic Investments began operating to boost jobs and growth in the EU, the Plan now covers27 EU countries.
Karmenu Vella, European Commissioner for Environment, Maritime Affairs and Fisheries, said: "I am delighted to see Malta today benefitting from the Juncker Investment Plan for the very first time. Thanks to this new agreement between the EIF and APS which is guaranteed under the Investment Plan, innovative Maltese businesses have access to EUR 12 million in fresh loans. SME financing under the Investment Plan has proven to be a great success over the past year so I am very proud that Malta is now on board. I look forward to hearing of more Maltese companies applying for financing under the EFSI, for example to invest in maritime tourism and the environment."
Speaking at the signature event in Malta, EIF Chief Executive Pier Luigi Gilibert said: "I am very pleased to be signing the first InnovFin EFSI transaction in Malta, especially considering that today's transaction with APS brings the total number of EU countries to benefit from EFSI to 27. Thanks to this EFSI deal, I am confident APS will be able to expand its support to Maltese SMEs by combining the InnovFin guarantee with their existing financing solutions."
Marcel Cassar, CEO of APS Bank, said: "We are proud to be associated with the European Investment Fund in bringing this programme to the Maltese SME sector. APS Bank has a history of supporting innovation and enterprise of small and medium-sized firms and our involvement in facilitating their access to finance will be stepped up going forward."
About EIF
The European Investment Fund (EIF) is part of the European Investment Bank group. Its central mission is to support Europe's micro, small and medium-sized businesses (SMEs) by helping them to access finance. EIF designs and develops venture and growth capital, guarantees and microfinance instruments which specifically target this market segment. In this role, EIF fosters EU objectives in support of innovation, research and development, entrepreneurship, growth, and employment. More information on EIF's work under the EFSI is available here. 
About APS
APS Bank is one of the oldest banks in Malta and a leading provider of financial services ranging from personal to business to investments. Its retail and commercial channels consist of a network of branches and ATMs complemented by a versatile internet banking platform and a wealth management product offering. For over 100 years, APS Bank has been a trusted partner to its clients assisting their economic and social development, its business model orientated towards the MSME and community banking segments with an overriding commitment towards sustainable financing practices. www.apsbank.com.mt
About the Investment Plan for Europe
The Investment Plan focuses on strengthening European investments to create jobs and growth. It does so by making smarter use of new and existing financial resources, removing obstacles to investment, providing visibility and technical assistance to investment project. The Investment Plan is already showing results. The European Investment Bank (EIB) estimates that by July 2016, the European Fund for Strategic Investments (EFSI) triggered more than EUR 115.7 billion of investment in Europe.
Building on this success, the European Commission on 14 September 2016 proposed extending the EFSI by increasing its firepower and duration as well as reinforcing its strengths.
Find the latest EFSI figures including a break-down by sector and by country. For more information see the FAQs.
About InnovFin
The InnovFin SME Guarantee Facility provides guarantees and counter-guarantees on debt financing of between EUR 25,000 and EUR 7.5 million in order to improve access to loan finance for innovative small and medium-sized enterprises and small mid-caps (up to 499 employees). The facility is managed by EIF, and is rolled out through financial intermediaries – banks and other financial institutions – in EU Member States and Associated Countries. Under this facility, financial intermediaries are guaranteed by EIF against a proportion of their losses incurred on the debt financing covered under the facility.
Press contacts: