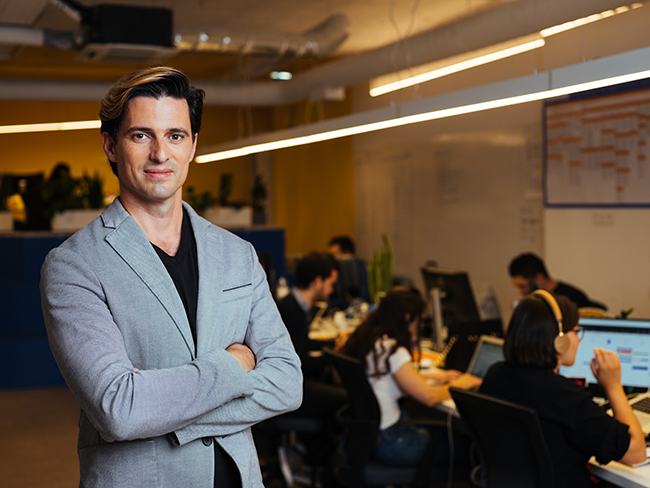 "Language is probably the most obvious expression of human intelligence but the multiplicity and diversity of languages can become an issue when a company scales to other markets. From marketing to product descriptions, sales to customer service… This is what we have set out to solve," says Vasco Pedro, CEO and co-founder of Unbabel.
Unbabel, based in Lisbon and San Fransisco, is a company active in the B2B space that enables modern enterprises to serve customers in their native languages with AI-powered, human translation support.
"My fascination with languages was ever-present. My mother is a professor of English linguistics so it has always been a big thing in our house and for me language is also the gateway to understanding how other people think," Vasco explains, adding that he went on to study artificial intelligence with a minor in linguistics, bringing the two together first in his studies and then in this business venture.
"Before, translating used to be restricted to websites and manuals. To provide customer service in local languages you needed to hire native speakers. That's both expensive and inefficient, with lots of overheads that make it difficult to scale. AI has changed all this. With Unbabel, what you can do is centralise customer service resources and have just one team. All you need is one agent that speaks one language and through Unbabel this person can provide service in 30 languages. Not only is it cheaper and faster, but it also allows you to provide your customers with expert support rather than primarily language skills. Speaking local languages effectively breaks down communication barriers, inhibitions and allows businesses to work seamlessly - and expand.
"We constantly train and re-train our AI systems with customer data, to make communication meaningful, so that a customer in China can write an email in Chinese, customer service receives it in English, replies in English, and the client gets the reply in Chinese - with all the jargon and technicalities accurately translated."
With a clientele that includes the likes of Microsoft, Expedia, Booking.com and Facebook, to name but a few, Unbabel is blazing a trail in machine translation. In 2019, the company received an investment from Indico capital, a venture capital firm supported by the EIF under the EU's Investment Plan for Europe as they look to grow into the Asian market and develop the product further, moving beyond customer-service to addressing other business functions like sales, marketing or product.
Company:  Unbabel (Portugal)
Type of business: ICT
EIF financing: InnovFin Equity, EFSI, Portugal Tech
Financial intermediary: Indico Capital
For further information about EIF intermediaries in Portugal, please refer to: http://www.eif.org/what_we_do/where/pt