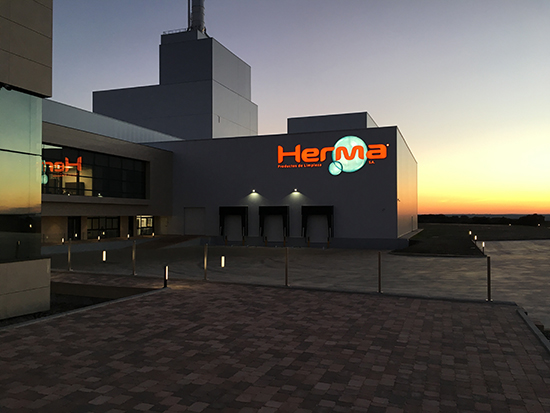 Herma is a company active in a sector with intense competition. "What we do is offer affordable but high quality products mainly for the Iberian market, northern Africa and Western Europe. We're up against big multinationals, so we need to do what we do well," explains Francisco Delgado, General-Director of Herma Cleaning Products. Herma specialises in the production of items like detergents and softeners for clothes and dishwashing.
"During the crisis, more and more people were interested in buying local products that are more affordable than the big brands, while maintaining a high quality as well," he adds. That presented an opportunity for the team of entrepreneurs that set up Herma in 2013.
In order to provide the market what it needed, Herma relies heavily on research and development to develop the best and most cost-effective products: "We assess the efficiency of raw materials as well as the packaging and transportation," he explains, "and we follow consumer behaviour closely. Part of our innovation lies in keeping up with people's daily activities. For example, we have products that wash heavily soiled clothing in cold water, especially designed for consumers who run a lot, an activity that is becoming increasingly popular; products for single parents or people who live alone, a growing sector in Spain who need smaller volumes for their washing up; and eco-friendly products for environmentally-conscious customers on a low-budget. We can't compete with multinationals on a marketing level, but we can innovate and develop affordable products that suit these preferences and lifestyles". Quality assessment has been an important driver in Herma's development from the beginning, with the company certified under the most reliable quality certificates in Europe.
Moreover, Herma is very committed to environmental protection, receiving an award for sustainability and energy-efficiency in 2017. "We do everything we can to reduce our carbon emissions, using natural gas rather than fossil fuels, and we recycle the heat we generate to re-use it in our factory," Francisco adds.
It took three years of planning and structuring until Herma was able to construct "the most modern factory for household products in Europe at the moment". In order to proceed with the construction and purchase the necessary machinery, Herma secured an EU-guaranteed loan through Liberbank, backed by the EIF. This move created 49 full-time jobs in Extremadura, while the factory itself is able to accommodate many more. "Once we've consolidated this initial growth, we intend to pursue further expansion, looking towards northern and eastern Europe in particular, but also looking into personal-use products, eventually growing up to around 100 employees" Francisco says.
Company: Herma (Spain)
Type of business: hygiene products
EIF financing: SME Initiative Spain
Financial intermediary: Liberbank
For further information about EIF intermediaries in Spain, please refer to: http://www.eif.org/what_we_do/where/es/index.htm