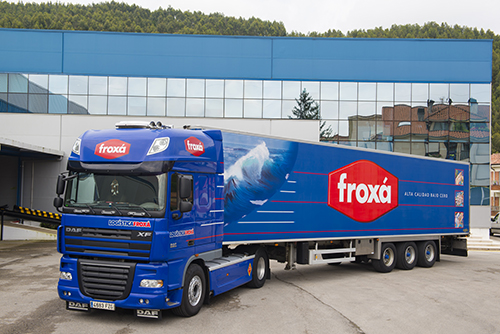 Froxá is born in Cantabria (Spain) in 1983, thanks to the entrepreneurial spirit and the commercial vision of its founder, Abel Fernández. Abel set up a modest family business specialised in the distribution of fish, seafood, and frozen meals. Abel's know-how soon made Froxá a leading distributor in the region and it hasn't stopped growing ever since.
"Consumers will just pluck frozen fish and precooked meals off the supermarket shelves, but actually there is a very long process behind them. There are many stages involved and that often means different actors and different locations. If you can centralise the process, or large parts of it, there are definitely lots of gains in efficiency but also in the quality of the final product," explains Aquilino Fernández, son of Froxá's founder and current General Director.
With the help of an EU-guaranteed loan through Liberbank, backed by the EIF, Froxá has been able to purchase high-tech equipment with the adequate provisions to process precooked meals and frozen products in optimum and competitive conditions – in-house. One of the greatest advantages of this investment has been the optimisation in the processing of 'KM 0' products. Its geographic location allows us to obtain extraordinary raw materials, such as anchovies from the Cantabrian Sea, which are bought in 'lonjas' (fish markets) and processed along the same day. By doing this, Froxá are able to offer an exceptionally nutritious product with a clean label and a great added value.
Aquilino finds investment in technology indispensable towards the growth of a business and "it is here where the EU plays a key role. The relentless advancement of the technological industry obliges us to make constant investments in this type of resources. Without such investment, our equipment will rapidly become obsolete in comparison to our competitors'."
The company is already witnessing the results of the expanded in-house processing across the majority of its products. In little more than one semester, one of Froxá's lines of production that the investment highly benefited has improved to such an extent that it has increased Froxá's sales by 35%.
Froxá's name comes from a boat that fished in international waters. This idea of internationalisation and expansion has deeply inspired the company, driving them to the forefront of the industry and to opening offices in Asia and Latin America. Ultimately, the company progressively internationalises itself little by little every year. However, this international vision has not compromised its commitment to the local market, where Froxá is a clear leader in the sector.
Company: Froxá (Spain)
Type of business: food
EIF financing: SME Initiative Spain
Financial intermediary: Liberbank

For further information about EIF intermediaries in Spain, please refer to: http://www.eif.org/what_we_do/where/es/index.htm