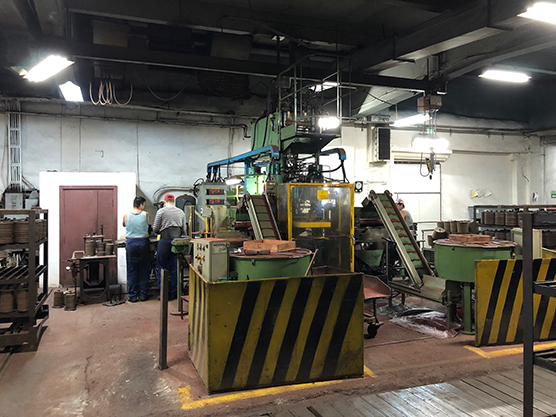 Carbochim is a manufacturing company specialised in abrasive products like grinding wheels and other types of abrasives, which are used to work or finish a work-piece. They are essential to industries like the automotive sector metallurgy, furniture, wood processing or textiles. Set up in 1949, it has enlarged its production of abrasive products in order to cater to wider range of clients, growing to become today the largest manufacturer of abrasive wheels in Romania.
The country's accession to the EU has created many advantages and opportunities for business, according to Carbochim's General Manager Viorel Popoviciu: "We are currently trading with Germany, Belgium, Switzerland and Poland. More and more partners are relying on the well-developed manufacturing industry in Romania. However, we are also newcomers to the international market so our products have to be excellent. We are investing in equipment to increase our quality and efficiency and to keep up with our competitors."
For this purpose, Carbochim secured an EU-guaranteed loan from Raiffeisen, backed by the EIF. "The loan allowed us to purchase a 1200-tonne press that improved efficiency and increased our production. It helped us move into a niche market, producing a very specific product, and we hired two persons to work on it," Viorel explains.
"Hiring staff is not so easy in Romania. We have significant brain drain. People go abroad to work and it is getting more and more difficult to find both qualified and unqualified workers. We try to substitute the lack of workforce with automatized machines wherever possible," he adds.
Carbochim's main goal is to expand its business abroad: "We are dominating the Romanian market, but exports is a different ball-game altogether. It's much more challenging. Last year, we exported 5% of our products and our goal is to reach 10% by the end of 2018. We already have some interest from the UK, so we are looking to develop business there soon."
At the same time, the company is preparing for a move away from Cluj Napoca's city centre to the suburbs, where the company will be able to fit its recently acquired heavy machinery and have more space to produce at a much larger scale.
Company: Carbochim
Type of business: manufacturing
EIF financing: SME Initiative Romania
Financial intermediary: Raiffeisen
For further information about EIF intermediaries in Romania, please refer to: http://www.eif.org/what_we_do/where/ro/index.htm