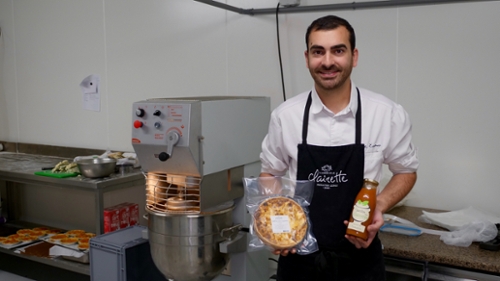 "Eight years ago, I was working as a chief-pâtissier. I was very happy, but I was still dreaming about setting up my own food business. One day, I decided to quit my job and move back to my parents' house to start cooking in our family kitchen, where it all started," explains Loïc Escamez, founder of Le Jardin de la Clairette. As a child, Loïc spent a lot of time at the market. His parents were maraîchés – they grew fruit and vegetables in the family garden and sold them at the local markets. Going back to the family kitchen therefore somehow closed the circle.
"I decided to use ripe fruit and vegetable that local farmers couldn't sell in the market to make traditional products such as jam, fruit cakes, quiches, soup and other preserved foods. The process was very natural and organic – I simply collected the ripe fruit, cooked it and took the products to local shops," explains Loïc. Before he knew it, he was swimming in purchasing orders. "The business picked up very quickly and I was super happy," says Loïc.
However, as is often the case, with success came a series of responsibilities. "As the business grew and I started selling to more clients, I needed facilities and equipment that would meet the EU's food and safety regulations," he adds, "The problem was that whilst everything was going well, I had only just started and I couldn't really afford to buy large premises or anything else. I went to a few banks – one laughed at me, while the others asked for really high interest rates… It was all very disheartening." However, with an EU-guaranteed loan through Banque Populaire, backed by the EIF, Loïc was able to buy a new place, a cooker, two fridges and storage containers. "I honestly don't know what I would've done without that loan," says Loïc, "The bank has also been amazing – they've really gone the extra mile and accompanied me through the enlargement process."
Nobody said that setting up your own business would be easy. "There have been some really tough times when I thought of giving up, but I'm glad that I pushed myself because now, as we say amongst the family, tout roule," says Loïc.
"I am very happy to have made my dreams come true, but it's always been about much more than that. It's also about re-educating people into preferring seasonal fruit and vegetables, to promote natural and organic food and reduce the use of pesticides," he adds. "Now, I'd like to expand the business, offer ready-cooked meals and create new recipes for special events such as Christmas for example. Lastly, I'd really like to be able to open my own shop and have a closer contact with customers and the people in the region."
Company: Le Jardin de la Clairette
Type of business: Food & Beverage
EIF financing: FOSTER
Financial intermediary: Banque Populaire (BPCE)
For further information about EIF intermediaries in France, please refer to: http://www.eif.org/what_we_do/where/fr