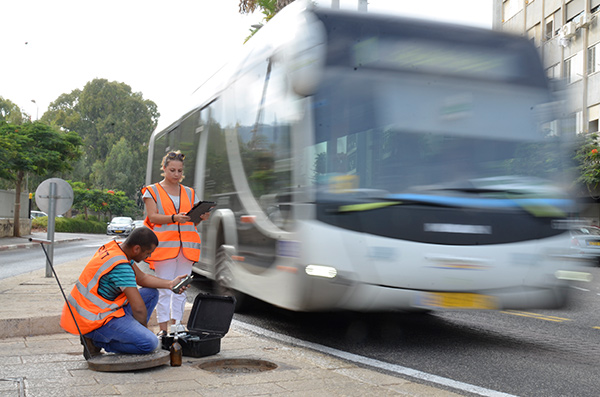 "In terms of monitoring and information technology, wastewater management lags behind when compared to other areas of urban planning. So far behind, in fact, that the change we are instigating is the first in 200 years", explains Ari Goldfarb, founder and CEO of Kando.
Kando, headquartered in Zikhron Ya'akov, Israel, has developed an innovative solution for wastewater management that can significantly reduce both environmental damage and costs. "Pollutants entering the sewage system can come from factories, restaurants (cooking oils), hotels, or even citizens. Apart from contaminating wastewater that will eventually be treated and used for irrigation, these pollutants can cause costly damage to the sewage system itself, clogging up or destroying pipes" explains Ari.
Manually collecting samples to check for pollutants is a thing of the past for Ari and Kando. The company has developed monitors that can be placed at key points along the sewer grid, systematically sampling the water and automatically sending data to the cloud for analysis. Algorithms will then process this data, predicting various parameters of the pollution. "We can detect not only the nature of pollution events, but also the source" says Ari. "This allows our clients to identify the polluter and take action, even sending automatic warnings or fines. When people receive a warning by sms, we find that they usually respond – fast! We've seen a 30% reduction in the organic load of pollution in treatment plants as a result."
Kando recently decided to take its innovative product abroad, but this scale-up effort required significant financial support. To overcome this problem, the company secured financing in the form of a loan from LeumiTech Bank, backed by EIF. "It's not easy to find financing solutions when you're trying something that nobody has done before" explains Ari. "The support allowed us to boost our R&D and start pilot projects in bigger European cities like Athens and Berlin." Five persons joined the team to meet the demands of these larger projects and Kando plans to grow to 60 employees in the course of the next five years.
"We believe we can have a positive impact on any city", Ari explains, "We are growing in sales, but what is important to us and the people that work here is our vision for a better world. Tackling environmental challenges is what we care about. It's what we do here."
Company: Kando (Israel)
Type of business: Wasterwater management
Financial intermediary: LeumiTech Bank
EIF financing: InnovFin SMEG