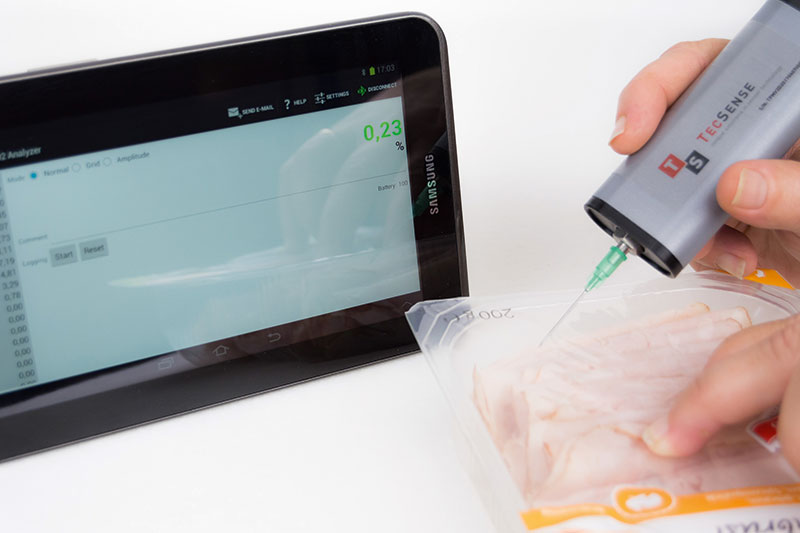 TecSense designs and manufactures optical sensors that measure oxygen concentration in gases or liquids, guaranteeing accurate real-time results even in complex processes at laboratories or production plants.
"We have three product lines with a number of different sensors applicable across a variety of industries ranging from food production to electronics and medical research", explains CEO and co-founder Johannes Krottmaier. "They are all based on the same physical principle: opto-chemical oxygen detection, in which a luminescent dye molecule is irradiated with light", adds co-founder Volker Ribitsch. "Our sensors can interpret the result to determine the concentration of oxygen."
"The application of our technology in the food industry has tremendous potential", Johannes adds. "We can print the dye onto the film that is used to package food. When the dye sees light, it will react and tell us immediately if there is too much oxygen inside the packaging. Too much oxygen could allow harmful microorganisms to grow. This would reduce the product's shelf-life. Rather than the traditional approach of random-testing and destroying samples, we have developed the only solution in the world that measures every package coming out of a production line, without touching or destroying anything."
In the initial process of research and product development, TecSense benefited from two EU grants. "This helped us to bring the product from development to a prototype stage, making it almost production ready", Johannes says.
Building on this work, in 2016, TecSense also received an EU-guaranteed loan through aws backed by EIF. "Without the EU support it would have been impossible to be where we are now, in terms of the size of the team and our technology. The financing allowed us to boost production volumes, and especially to develop our services for the food packaging industry", Johannes explains.
Aspiring to be a world-leader in opto-chemical sensor systems, TecSense now plans to expand the use of this technology to the measurement of CO2 levels as well as pH levels in liquids, relying heavily on further research. "We have to continually invest in R&D", explains Johannes, "if we don't innovate constantly I doubt we will survive five years in this field".
Company: TecSense (Austria)
Type of business: sensor systems (oxygen measuring)
EIF financing: InnovFin SMEG
Financial intermediary: aws
For further information about EIF intermediaries in Austria, please refer to: http://www.eif.org/what_we_do/where/at