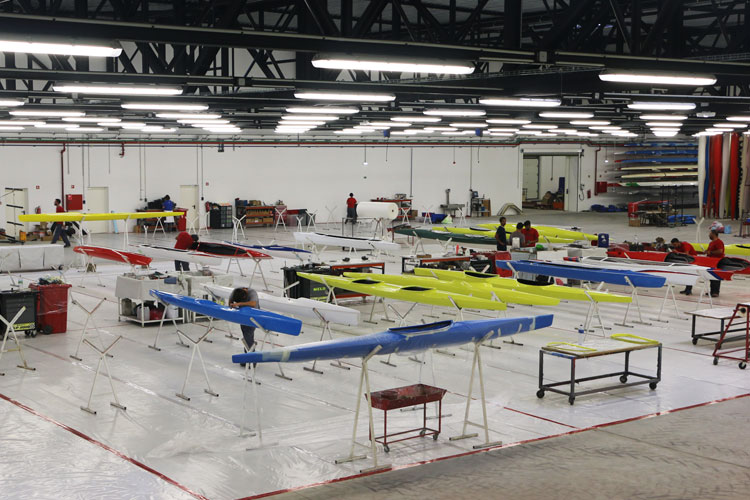 At the highest level of competitive sports, becoming a trusted brand in the global stage requires dedication, hard work, and consistent results. That was the path taken by Nelo, a world-leading manufacturer of canoes and kayaks based in Vila do Conde, Portugal.
As André Santos, Nelo's CEO, explains: "We do everything, from our own concepts and designs to manufacturing and testing. In addition to our core activities, we organize events and training camps to help professionals practice and test our boats extensively." Nelo operates three locations welcoming athletes and teams from all over the world, along with fans of aquatic sports. The company also launched two software apps designed to help athletes and coaches with their training, providing valuable feedback to monitor speed, stroke and heart rate.
One of the pillars of Nelo's international reputation is the excellent results their boats have systematically achieved in the Olympic Games, outperforming competitors. In the 2016 Olympics, athletes competing in Nelo boats won 8 gold, 9 silver and 10 bronze medals. "For brands active in the sports industry, results in competitions are very important", André says, "It is a way for the top athletes to confirm our quality, and the best way for us to show the world how our products perform."
With the international success came the need to grow the company. To this end, in 2016 Nelo sought a loan from Banco BPI, backed by the EIF. "The financing was very important. It allowed us to invest in a new factory and significantly develop our manufacturing ability both in terms of quality and quantity", André says, "We already hired 44 people and expect to double in size over the next months, which is directly linked to this investment. We already have 25 others doing in-factory training, with a new group about to start."
With a production of approximately 4,000 boats per year, the company has agents across the globe and exports the overwhelming majority of its products. With innovation as a core value, it values research and development as the key to ensure that its products maintain the edge over the competition.
Company: Nelo (M.A.R. Kayaks Lda.) (Portugal)
Type of business: Boat manufacturing / design
EIF financing: InnovFin SMEG
Financial intermediary: BPI
For further information about EIF intermediaries in Denmark, please refer to: http://www.eif.org/what_we_do/where/pt