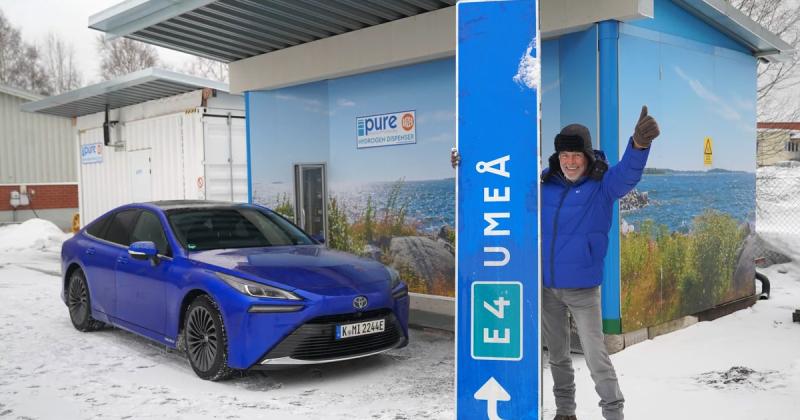 Oazer, based in Umeå in northern Sweden, is a company that provides hydrogen systems adapted to subarctic and arctic climates to customers who want zero-emission hydrogen solutions, building a network of refuelling stations across their geographical market and offering a viable green alternative to battery- and fossil-fuel-powered vehicles.
"In places like northern Sweden, distances are huge. When it comes to heavy duty, long-distance transportation, battery-powered transport isn't good enough. That's why we are developing the hydrogen-powered alternative," explains Edith Sundqvist, deputy CEO of Oazer.
One of the challenges however, is overcoming the commitment of vehicle manufacturers, policymakers and others to battery-powered vehicles. "Companies that have invested in battery think twice before switching to hydrogen. And they have an important voice in the market, with politicians, bankers etc." explains Edith. "And not enough trucks are using hydrogen yet, so our customers don't always see the business opportunity immediately. But things are changing now and especially with the long distances up north, people are seeing the value proposition. The market exploded last year and we have lots of requests right now."
With this in mind, Oazer, whose name is a nod to being an oasis in a desert of pollution, sought an EIF-guaranteed loan from Almi to finance their growth aspirations. "It was a loan targeting companies offering green solutions, and that runs in our DNA: everything from the paper used for business-cards, the ink, our give-aways and the actual product. You can't say you are a green company if you're not following it up in every part of the daily running of the company," Edith explains. The loan went towards boosting the company's marketing and sales efforts, including a big event in Stockholm to raise awareness around the hydrogen solution, as they look to build the market.
"Finance has always been a challenge. The technology is largely unknown, and it's difficult for financiers to gauge risk. Plus we are involved in large, expensive projects. To participate in this kind of business, you need economic stability so that client is assured that you are reliable and will deliver what you promised." But the company is sticking to its plan and can proudly say that they are as green as it gets: "We offer not just a refuelling station but the opportunity to buy a whole refuelling system: storage, production, dispenser, and the climate adaptation part as well. It's very important for the cold climates in the north. And it's all really clean: the power we use is only wind and water – that's 100% renewable, zero emissions, zero waste. The potential is huge."
Location: Umeå, Sweden
Financial Intermediary: Almi
SME: Oazer
Sector: transport & energy
Number of employees: 4 (+30 consultants)
Financing purpose: marketing and sales
EU financing: EGF
For further information about EIF intermediaries in Sweden, please refer to: http://www.eif.org/what_we_do/where/se/index.htm