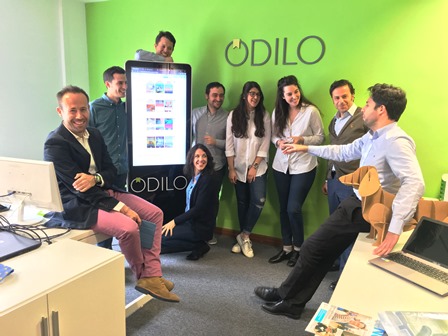 The rise in eBook popularity has changed the way in which readers access information. Rodrigo Rodriguez, co-founder and CEO of Murcia-based start-up, Odilo, was inspired by this change in the technological landscape and started the company as a digital content lending platform.
Rodrigo Rodriguez had been working for telecommunication giants Telefonica and British Telecom where he specialised in cloud computing. He intuitively read into the increasing popularity of eBooks as a driving element to rethink the transformation of libraries as we know them. Odilo's premise was to use the Cloud as a base upon which to build a digital content lending and selective acquisition platform for libraries and educational institutions while ensuring compliance with copyright laws.
Rodrigo's vision became a reality in 2011. Odilo offers a free accessible platform for clients, meaning no need to purchase specific software. There are no fixed costs associated and content is on a pay-as-you go basis. "We create technology for connecting libraries, patrons, and content creators", says Rodrigo. "We work with books, video, audio, as well as provide reporting, analytics and social media services, for libraries, corporations, universities and other institutions."
For the first three years of Odilo, 14 employees worked hard to develop the company without any external financing. In 2015, Odilo found itself in need of external financing in order to support expanding the service line to the education sector and contacted Inveready, a Spanish finance specialist. Inveready encouraged Odilo to apply for an EU-guaranteed loan backed by EIF under the Investment Plan for Europe.
Today, Odilo is one of the leading software solutions for libraries, educational institutions and more recently hotel and tourism companies, offering content as a service solution to help them better connect with their users through a digital content strategy. Rodrigo Rodriguez currently leads a team of 52 people from five different nationalities in international offices located in the US, Latin America and Spain. Short-term future plans for Odilo include expanding operations to Australia and to the Middle East.
Company: Odilo (Spain)
Type of business: Digital content lending platform
EIF financing: InnovFin SMEG, EFSI
For further information abiout EIF intermediaries in Spain, please refer to:
http://www.eif.org/what_we_do/where/es