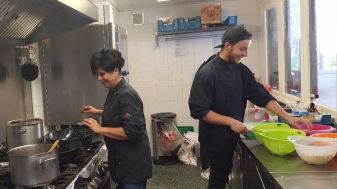 When Kees Bopp left his motherland Indonesia after the Japanese occupation, he came to the Netherlands to start a new life. It was in the 1960's when Kees, accompanied by family recipes, started selling authentic Indonesian food door-to-door to the local Indonesian community.
It did not take long before he became well known in the small town of Geleen for his excellent food that some people even sent to family in Indonesia. Together with his wife, Kees opened a shop named Toko Bopp in which they first sold ingredients and later moved to ready-made dishes. 11 years ago, preparing for retirement, Kees transferred the company to a new couple, to whom he taught the ins and outs of the Indonesian cuisine and the essence of his recipes. Today his recipes are still being used and so his legacy lives on.
This year Toko Bopp was nominated as the 2nd best Indonesian food specialty store in the Netherlands. Together with the company's 50 year anniversary, the nomination has boosted its popularity, attracting people from all over the country and resulting in threefold growth.
To hire more staff and remodel the facility to accommodate for the heightened interest, Toko Bopp needed financing. As a relatively small company, they were unable to get a loan from their bank so after evaluating other options they turned to Qredits. With EU support backed by EIF under the Investment Plan for Europe, Toko Bopp was able to secure the necessary loan. The current owner said "If it were not for this loan we would have been unable to keep up with the current demand and the loan came at exactly the right time."
The Investment Plan for Europe aims to generate new investments by facilitating access to finance for small and medium-sized enterprises, like Toko Bopp, who, backed by the necessary financing, is now looking to expand the business even further, including considering a terrace in front of the shop.
Company: Toko Bopp
Type of business: Food company
EIF financing: COSME LGF,  EFSI
For further information about EIF intermediaries in the Netherlands, please refer to: http://www.eif.org/what_we_do/where/nl