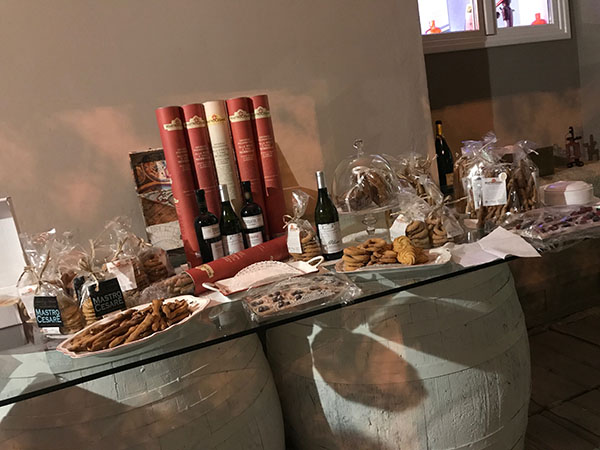 From its production plant in Borgomanero, Piedmont, Mastro Cesare produces over 20 kinds of bread both savoury and sweet, to be distributed throughout the country and abroad. The company specializes in grissini, breadsticks that originated in northern Italy many centuries ago and are currently a popular snack and appetizer widespread across the world.
In addition, the company offers a variety of regional specialities, from focaccia and pizza with Piedmontese cheese to traditional dry baked goods like stinchett or crasanzin, respecting traditional recipes and exclusively using local ingredients such as the fruit and honey from the valleys of Piedmont.
The origins of the company go back to the first half of 20th century, when Cesare Valsesia – a Piedmontese man with a passion for baking – had to deal with the harsh realities of socio-economic instability as he took over the family grocery store. He decided to specialize in baked products, simple foods produced with regional ingredients, and dedicate himself to the business with total commitment and professionalism. 
Many decades later, Mastro Cesare is a family company that keeps the tradition alive. It is the result of the collaboration between two families, with Marco, Cesare's grandson, in charge of production to carry on the tradition of handmade quality products.
In order to support the business, Mastro Cesare secured a loan through Cogart CAN Piemonte, with an EU-backed guarantee from EIF, under the Investment Plan for Europe. This investment allowed the company to acquire additional machinery for the factory and optimise production in order to meet the increasing demand.
With almost a century of experience in bread making, Mastro Cesare continues to be a name synonymous with quality and tradition, recognised throughout the whole of Italy, delivering the inimitable flavours of the region to an increasingly demanding clientele.
Company: Mastro Cesare (Italy)
Financial Intermediary: Cogart CAN Piemonte
Type of business: bakery
EIF financing:  COSME LGF,  EFSI
For further information about EIF intermediaries in Italy please refer to: http://www.eif.org/what_we_do/where/it