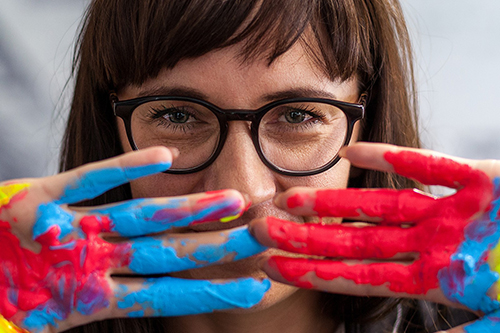 "About twenty years ago, my husband was working in an advertising agency and he had a client who needed silk-screen printing services. At that time, there was a lack of such services in Lithuania, so I stepped in and helped the client with the design side and I got thinking about doing this as a living. So from one idea and one little project, I've gone to having lots of ideas and many big projects," says Jurate Kasperaviciene, CEO and co-founder of Laurema.
Laurema is a design and manufacturing business that specialises in printing stickers and labels on different surfaces. "We use silk-screen printing technology to produce heat transfers – textile labels to decorate or mark clothes. About three years ago, we were asked to produce a new product – water slide decal, i.e.  a sticker to decorate surfaces like metal, glass, wood, plastic or carbon. Think of bicycle frames, ski sticks or helmets for example," she adds.
With clients all over Europe, including some of the largest European brands, Laurema prides itself on its cooperative spirit, "We work very closely with our suppliers and clients and we maintain a good relationship with them. Every time that we visit a potential client, we also visit one of our older clients to strengthen our partnership. It helps us to better understand their needs and desires and remain one step ahead of the market," explains Jurate. "Through these interactions, we developed the idea of decorating bicycles", she says. With the help of an EU-guaranteed loan from Swedbank, backed by the EIF under the EU's Investment Plan for Europe, Laurema has been able to invest in new equipment that allows the company to produce a new product – different types of decals, thus diversifying its product range.
In March 2018, Jurate was awarded the 'Best Lithuanian Female Entrepreneur' award. "At the beginning, I didn't really understand what a big deal it was. To me, men and women are equal at work, at home, everywhere. But I have come to the conclusion that there are many women out there who want to build a successful business but face many obstacles," says Jurate, "so I decided to become a mentor for inexperienced people, mostly for female entrepreneurs. I spend a lot of time trying to help and encourage women to start up and grow their business and also become better leaders," she explains. "Honestly, I wouldn't say that I only 'teach' them, because it's a very enriching process for me as well," says Jurate.
Company: Laurema (Lithuania)
Type of business: Manufacturing
EIF financing: COSME LGF, EFSI
Financial intermediary: Swedbank
For further information about EIF intermediaries in Lithuania, please refer to: https://www.eif.org/what_we_do/where/ltu/index.htm