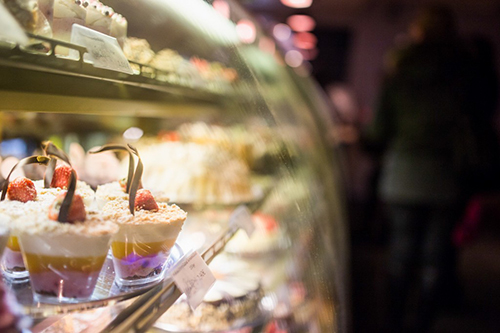 Gustav is a company specialised in producing patisserie in-house using fresh and local ingredients; later, the patisserie is sold within Gustav's cafés as well as to external retailers. "The most distinctive part of our business is the decoration of our patisserie. It's almost a form of art. We put in a lot of creativity and precision," explains Rivo Sisas, co-founder of Gustav.  
The company is a testament to the founders' resilience and teamwork. Rivo was a salesman for a coffee brand and Joel worked at a hotel restaurant. "We became friends and eventually business partners. When a restaurant located in the historical centre of Tartu closed and its premises became available, we jumped at the opportunity to pursue our own project," says Rivo. However, things didn't work out as the pair expected. "After the 2008 financial crisis, the business wasn't doing very well," explains Rivo, "So we decided to focus almost exclusively on the products that were still in high demand - cakes and desserts," says Rivo. "We also hired a third partner to manage the business: Siim Liivamägi. Siim knew the industry and had experience in business management. He is now the CEO of the company and he is an essential part of the business," adds Rivo.
"The three of us are very different, but this is not a problem. It's the opposite; it's the secret behind our success," says Rivo. "Siim is a relationship-builder. He ensures that all of our business activities with suppliers, clients and employees are based on trust. On the other hand, Joel is the architect of ideas and I take care of the finance," explains Rivo, "It's the perfect team." The company has gone from strength to strength, but challenges still emerge. "The biggest difficulty now is managing growth – how to expand our production line, how much, where to… We recently realised that there was a market in Finland that was very interested in our products. However, we needed a new workplace to prepare the cakes and desserts to maintain our 22-hour freshness policy," says Rivo.
With an EU-guaranteed loan from Swedbank, backed by the EIF under the Investment Plan for Europe, they were able to purchase the necessary equipment and secure additional working premises, to allow a successful launch in Finland. "The objective now is to expand the business further –production and retail points - across the national and European territory."
Company: Gustav (Estonia)
Type of business: Food Industry
EIF financing: COSME LGF, EFSI
Financial intermediary: Swedbank
For further information about EIF intermediaries in Estonia, please refer to: http://www.eif.org/what_we_do/where/ee