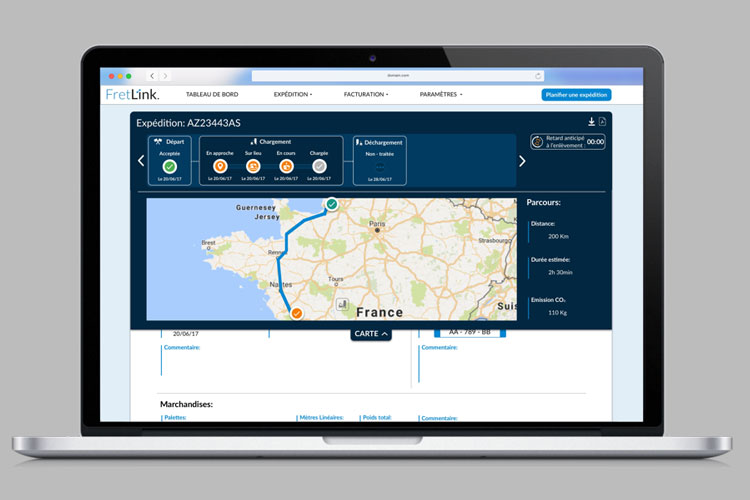 The connection between shippers and carriers is the dynamic process at the heart of the global logistics industry. It is, however, a traditionally fragmented market with a multitude of actors and different interfaces leading to inefficiencies and great cost in terms of time and money. "It is estimated that one truck in four runs empty and the average fill-rate of trucks is just 70%. Paradoxically, Europe is also facing a shortage of trucks and drivers at the same time" explains Paul Guillemin, CEO of Fretlink, who are out to improve efficiency in this space.
Fretlink is a French company born when a web entrepreneur, a logistics management expert and an economist specialized in optimization came together to look into the business opportunity presented by this inefficiency.
Together, they have developed a software platform that serves as a tool linking shippers to carriers, applying new technologies to the world of logistics and transportation. This software-as-a-service (SaaS) marketplace aims to bring significant added value through optimization of the transport of goods. By connecting the marketplace with fast, flexible and mobile software, Fretlink enables any professional shipper to find an adequate carrier, estimate rates and track his shipment. For the carrier, there is no need to examine thousands of offers or spend time negotiating, as the software takes care of finding the lots that match his needs.
This is pretty much how Kronenbourg beer crates found themselves travelling alongside designer-brand fashion items from Showroomprivé.com. "They were both shipping from the same area with extra space in the trucks. We connected the dots, and the result works for both companies and the environment as well" Paul explains.
Fretlink received an investment from Daphni Purple, a venture capital fund backed by EIF under the EU's Investment Plan for Europe which aims to generate new investments into European SMEs. This allowed the company to recruit new talent to boost their operational and web development teams. "The investment was key in our efforts to scale up and secure big-name clients like Carlsberg and P&G. Large corporate clients want certainty and security" Paul explains. "They can't take any risks with their merchandise and we need to be able to deliver in a competitive market." Looking ahead, Fretlink are expanding their business eastwards, having recently opened an office in Sofia.
Company: Fretlink (France)
Type of business: Software for logistics/transportation management
EIF financing: InnovFin SMEG, EFSI
Financial intermediary: Daphni Purple
For further information about EIF intermediaries in France, please refer to: http://www.eif.org/what_we_do/where/fr