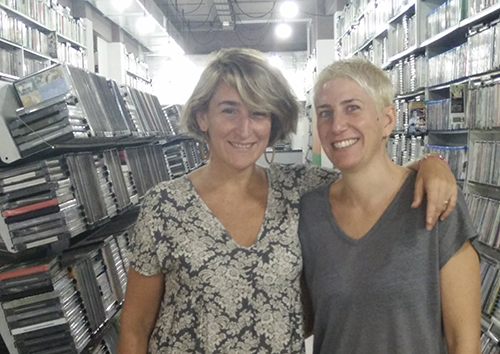 Forty years ago, Aurora Depares' parents founded the first video club in Spain. Currently, Video Instan is a reference in the neighbourhood, in the city of Barcelona, and indeed the Spanish film industry. "We have gathered over 45,000 titles, out of which 8,000 are in VHS because they haven't been edited in DVD. We have contemporary commercial and non-commercial films, old films, short films, Spanish oldies and documentaries," says Aurora. However, with the rise of online platforms and streaming, Aurora has had to fight to keep the business alive. "Online platforms cannot cater for such a diversity of tastes, but they do put our business under pressure," says Aurora.
To maintain the Instan Video alive, Aurora has followed Steve Jobs' approach, selling experiences rather than products. "With streaming and online platforms, family members often watch different things on laptops and small screens in different parts of the house," explains Aurora, "However, watching a DVD is more likely to bring people together, in the living room sharing the film, on the sofa, with popcorn, family and friends." Thus, Aurora and Video Instan offer opportunities to share a good time with other people as well as films.
"As technology evolves, for us, it's a question of reinventing ourselves to stay alive," she says. With an EU-guaranteed loan from Triodos Bank, backed by the EIF under the Investment Plan for Europe, Aurora has managed to add a cinema and a café to the business, with the aim of further supporting this business strategy. "The cinema has thirty-two seats and will allow us to do family viewings, school viewings, press releases and film 'cycles'," says Aurora, "I'm particularly excited about film 'cycles' because our customers will be the ones proposing films, directors and themes, making the process fully participatory and engaging. They can later sit in the café and exchange thoughts and impressions," she adds. Aurora wants this new space to become a reference point in the film industry, promoting local artists and creating opportunities.
"I like films that leave me with something to think about or with a different perspective on life. Last week, we watched The Bookshop at one of our cinema viewings and we later talked about feminism and all of those women fighting for their dreams," adds Aurora. Aurora is proud to support the creative and culture sectors and make a positive contribution to society. 
"I've been working here since I was 16. I love cinema and I especially love sharing it with others," says Aurora, "We just need to reinvent ourselves and attract customers in different ways."
Company: Video Instan (Spain)
Type of business: Audiovisual / Social entrepreneurship
EIF financing: EaSI Guarantee Financial Instrument, EFSI
Financial intermediary: Tiodos Bank
For further information abiout EIF intermediaries in Spain, please refer to: http://www.eif.org/what_we_do/where/es