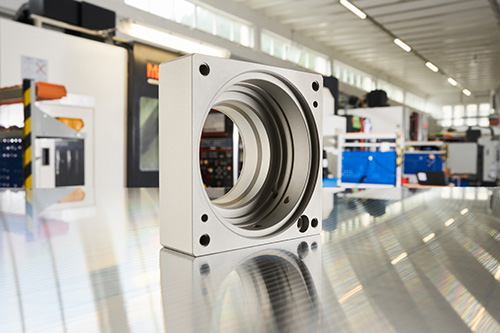 Laser technology is a growing field, with applications ranging from science to medicine, surveillance cameras, aviation and aerospace and many other industries. Sargasas is a manufacturing business based in Vilnus, Lithuania, that produces metallic parts for lasers used mainly in the opto-mechanical field. "Basically, we sell our products – very precise parts - to companies that design and assemble lasers. It's a niche market, but it's highly competitive, so we need to invest heavily in innovation and the constant modernisation of our equipment," says Mantas Kačerauskas, Executive Director of Sargasas.
Since Sargasas was established in 2005, it has gone from strength to strength. "We have been registering annual growth of 25% in turnover since we started," he says. The key? Sargasas' commitment to technology and innovation. "With the developments in science, laser technology is booming. As our customers grow, we grow with them. We have invested heavily in new Computer Numerical Control (CNC) machinery and this is very important if we want to stay in a leading position. But to keep upgrading and investing in new equipment, we need to pay a lot of attention to financing. We rely heavily on loans," explains Mantas.
For this purpose, Sargasas has received an EU-guaranteed loan from Swedbank, supported by the EIF. "This financing has allowed us to purchase new machinery. This year, we also dedicated a significant part of our budget to digitalising the company," says Mantas. "We also hired three new staff members to manage the machinery, from the programming level to quality assessment and measuring and of course the administration behind it." In this way, Sargasas is able to pursue optimization of its production process.
"We already have 1.5x higher productivity per hour than the average in Lithuania. Our objective is to be the most innovative company in metal processing," adds Mantas.
At the same time, Sargasas aims to further increase their market share. "70% of our clients are in the Baltic countries, but we also sell to Germany, Spain, Austria, Switzerland, Sweden and Norway. With the new technology we are using, we will be able to expand the usability of our products and further diversify our clients," says Mantas.
Company: Sargasas (Lithuania)
Type of business:  Manufacturing
EIF financing:  COSME LGF, EFSI
Financial Intermediary: Swedbank
For further information abiout EIF intermediaries in Poland please refer to: http://www.eif.org/what_we_do/where/lt