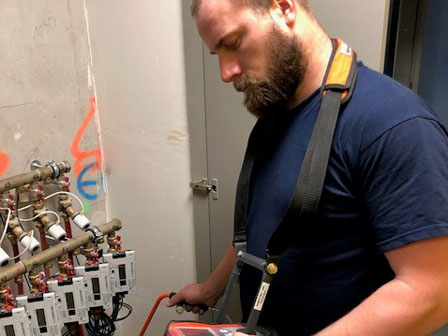 Plomberie Confort Energies specialises in installation and maintenance work on plumbing, heating and air conditioning systems in Montpellier and its surroundings.
Set up by Sylvain and Laurent in early 2017, the company relies on their extensive expertise to respond quickly and effectively to solve plumbing problems, particularly in relation to heating and cooling systems.
Both partners participated in vocational training on the 'Tour de France' with the 'Compagnons du Devoir' programme, which allowed them to develop the required know-how and experience over a seven year period through training, mentoring and work placements, before settling down in the south of France and developing their own professional networks.
In 2017, the two came together to start up their own company, Plomberie Confort Energies in Montpellier. "This area has significant population growth every year. That represents a growing market for us" explains Laurent.
To realise their start-up project, Laurent and Sylvain secured a loan through SIAGI, guaranteed by EIF under the EU's Investment Plan for Europe. "With the guarantee from SIAGI and EIF, our business plan became much more attractive and it was easier to get a bank loan," says Laurent, "The loan allowed us to invest in specialised equipment that was essential for us to start up the business. We bought cameras and leak detectors and of course two service vehicles. Without the financing, this wouldn't have taken off."
With the business doing well, Laurent and Sylvain are already looking ahead to new challenges: "We want to keep growing of course, but we're also thinking about setting up another business, renting out material and equipment for maintenance of heating and cooling systems" concludes Laurent.
Company: Plomberie Confort Energies (France)
Type of business: Plumbing, heating & air-conditioning
EIF financing:  COSME LGF, EFSI
Financial Intermediary: SIAGI
For further information abiout EIF intermediaries in Poland please refer to: http://www.eif.org/what_we_do/where/fr