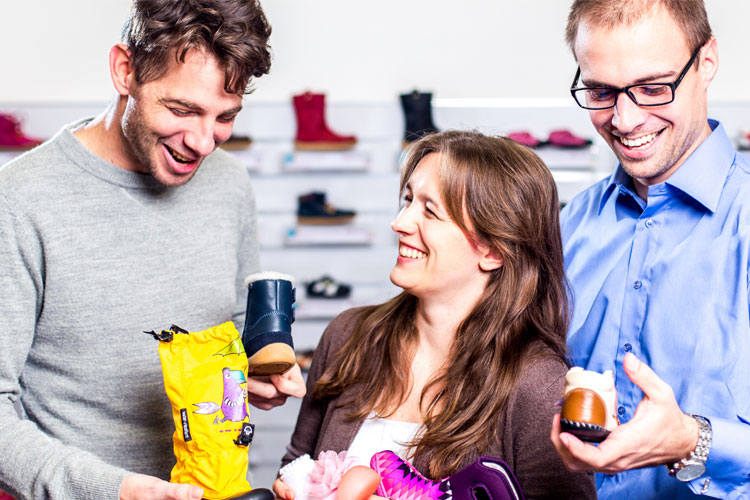 It's not until you become a parent that you may realise why it's so important for children to wear properly fitting footwear. Driven by the demand of a growing segment of conscious customers, the range of available children's shoes has developed rapidly over the past years to include healthy, natural and barefoot-like options.
To bring this choice of products closer to the clientele in Brno (Czech Republic), Lucie Prokešová obtained an EU-supported loan through Komerční banka, an EIF financial intermediary under the COSME Loan Guarantee Facility. Her shop, Neobuto, was opened in early 2016.
The attentive and professional advice in helping young customers to find their perfectly fitting footwear has made Neobuto famous also outside the city. Customers sometimes have come from as far as 200 km – and from different countries including the neighbouring Slovakia and Austria – to visit the shop and explore the new brands of children's shoes that were previously not very well known on the Czech market.
Most recently, Neobuto started cooperating with a children's physiotherapist as well with a view to expanding the range of shoes and effectively responding to specific needs such as flatfoot. Following the company's success in the Brno region, the plan is to open a new branch next year also in Prague, the capital city.   
The COSME loan agreement that helped Lucie Prokešová establish the business benefited from the backing of the European Fund for Strategic Investments (EFSI) managed by EIF.
Company: Neobuto (Czech Republic)
Type of business: Children's shoe shop
EIF financing: COSME LGF,  EFSI
Financial intermediary: Komerční banka
For further information abiout EIF intermediaries in the Czech Republic, please refer to: http://www.eif.org/what_we_do/where/cz