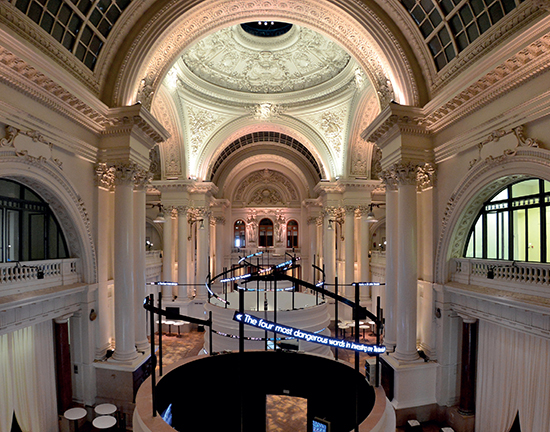 Planning and setting up an exhibition is a massive and often daunting task. The requirements can range from the concept to the research, the logistics, transport, administration and finance – to name but a few dimensions.
Tempora, a company based in Forest, Brussels, is a one-stop shop for exhibitions. "We carry out the whole process in-house. We collect and organise the material, research, arrange the logistics and advertising, and, finally, put up the exhibition," explains Raphael Remiche, Chief Financial Officer of Tempora. "Because we integrate everything into our approach, we're cost-effective."
Tempora has become a reference point in the world of museums and cultural heritage, having put on exhibitions like 'C'est notre histoire! – 50 ans d'aventure européenne' or more recently 'Islam, It's also our history'.
"Our work combines the typical accuracy of the scientific research process with a high degree of creativity to present knowledge in an innovative and attractive way," says Raphael. "We want to make sure our exhibitions enhance visitors' knowledge and offer memorable life experiences," he adds.
However, organising and transferring a large exhibition can be a very complex and demanding process that puts a lot of pressure on the company's finances. "It can take approximately two years to collect the material and prepare an exhibition," says Raphael, "and that entails a lot of costs that we have to endure before the first ticket is sold. This leaves us with a significant cashflow problem."
Thanks to an EU-guaranteed loan from St'art, backed by the EIF under the Investment Plan for Europe, Tempora was able to solve the cashflow issue and keep developing other sides of the business, such as investing in a new workshop, whilst maintaining their commitment to ongoing exhibitions. "We wouldn't have been able to do this if we had had to devote all of our financial resources to covering the costs of a large exhibition, like 'Pompei: the immortal city' which we took to the USA," adds Raphael. "This allows us to multi-task and keep developing the business. Ultimately, we want to continue making knowledge available to as many people as possible."
Company: Tempora (Belgium)
Type of business: Exhibitions
EIF financing: Cultural & Creative Sectors Guarantee Facility (CCS), EFSI
Financial intermediary: St'art
For further information about EIF intermediaries in Belgium, please refer to: http://www.eif.org/what_we_do/where/be