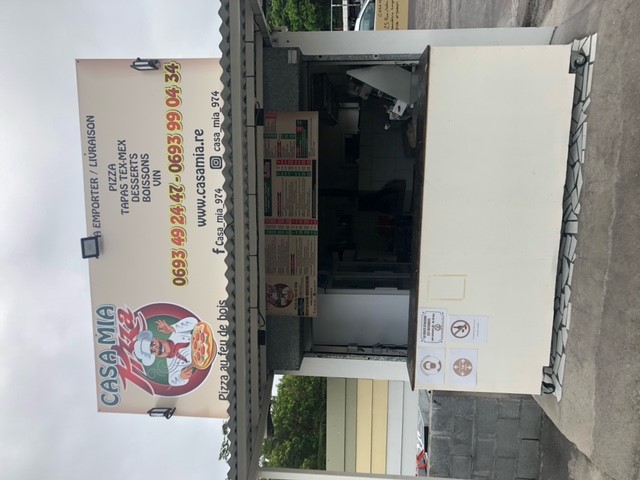 Marc Russo, owner of Casa Mia, a delivery and take-away pizza stall, has more than 20 years of experience with pizzerias in mainland France. This came in handy when it came to starting a new venture in the southernmost part of exotic Réunion, in St Joseph, marrying Italian cuisine with French entrepreneurship. "I moved here with my family about two years ago. My wife is from the island and so we knew the place very well already, which made it easier to start a business from scratch. Plus, I find life here more convivial and less stressful compared to mainland France and I believe it's better for our children; they have more freedom."
Casa Mia offers traditional Calabrian and Mediterranean pizzas baked in a wood-fired oven and other delicacies. "I'm from Calabria originally, so pizzas have no secrets for me!" Adjusting his plans to the pandemic sanitary measures Marc explains, "I don't have a classic pizza restaurant where you can come in and sit down. Instead, I use a stall and offer home delivery and take-away with the possibility of ordering online. It's more appropriate right now." Other than making pizza, Marc manages all aspects of the business, from tiling to the electricity and the decoration – very much a one-man-show.
In these efforts, Marc received an EU-guaranteed loan from Crea-sol, backed by the EIF, which helped him to set up the business: "I needed to buy material and equipment to open. The cost of equipment for our type of business here is 30-35% higher compared to mainland France. Without the help from Initiative Réunion and Crea-sol, I wouldn't have been able to open in October this year. If things go well I might be able to hire two people in January 2021."
"Pizza delivery and take-away works well so far and I hope to continue like that but I have to admit we all face uncertainty regarding the future due to the COVID-19 situation. I guess we'll see how things develop in relation to the health measures and if these will be rolled-out here in the same way as they were rolled out in other countries," concludes Marc on the future business plans.
Company: Casa Mia (Austria)
Type of business: food & beverage
EIF financing: EaSI Guarantee Financial Instrument
Financial intermediary: Créa-sol

For further information about EIF intermediaries in France, please refer to: http://www.eif.org/what_we_do/where/fr/index.htm