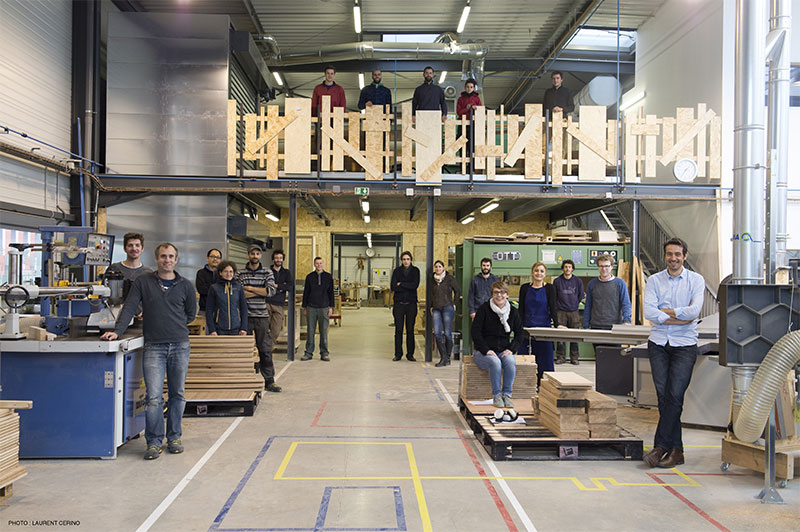 "Everyone has their own separate talents. With Nicolas, we were able to set up and run a business and we enjoy the freedom that comes with that. Others don't have this kind of opportunity, so we're just happy to do what we can to help," explains Fabrice Poncet, CEO and co-founder of La Fabrique.
La Fabrique is much more than just a well-run business that makes furniture in Francheville, just outside Lyon. "We place great emphasis on social inclusion. Some of our employees are from socially marginalised groups and might have difficulty finding full-time employment - like persons with handicaps or mental disability, or people who have just been unlucky in accidents."
Fabrice and Nicolas Autric have set up a business model that is based on sharing both the control and the profits of the company: 20% of all profits are re-distributed to all the employees while the rest is re-invested in the company. Salary determination is based on a very transparent policy with objective criteria, and management maintains a very open dialogue with employees on matters like safety, the environment and working hours.
The business also has a very strong environmental focus, as Fabrice explains: "We source as much of the material as possible locally, especially the wood, to minimise our carbon footprint. We use varnish and glue that don't contain pollutants and we filter our waste-water to avoid any sort of chemical residues. We're also working on recycling more of our waste and in the future we want to install photovoltaics. We need to take care of the planet as much as our people."
Set up in 2008, the business is today on solid footing, having grown quickly from 10 to 23 employees. With this growth and related success on the market, came the need for new facilities and in particular a new workshop. "We moved from working on projects to starting to produce furniture in series, so we needed a different type of space," says Fabrice. To finance this new workshop, La Fabrique turned to La Nef and received an EU-guaranteed loan backed by the EIF. "With this support we were able to move into new facilities and also create what we call 'La Fabrique d'en face', which is a separate workshop situated literally across the street from us, where we can welcome amateurs to try their hand at crafting and organise things like corporate team-building events."
Company: La Fabrique (France)
Type of business: Social enterprise
EIF financing: EaSI Guarantee Financial Instrument
Financial intermediary: La Nef
For further information about EIF intermediaries in France, please refer to: http://www.eif.org/what_we_do/where/fr/index.htm