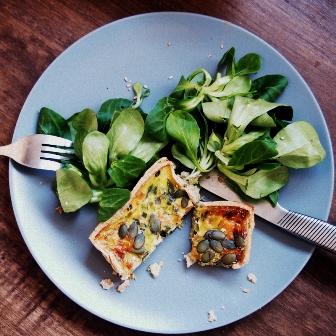 As an engaged woman in support of people living in precarious situations, Dominique Torres has always wanted to launch a project within the framework of social and economic solidarity. In 2013, when Dominique found herself unemployed, she thought that the time was right to develop her own business.
Her business idea developed out of an internship that she undertook in the management team of an 'Atelier Chantier d'Insertion', i.e. integration workshop: "When I was doing this internship, I realised that it was difficult to obtain professional experience in agri-food businesses, rendering it more difficult for young professionals to work in this sector. I quickly realised that there was a missing link there, which was worth exploiting."
Also acutely aware of the growing population with gluten intolerance, taking as examples many friends and relatives, Dominique decided to position herself on the market of gluten-free and pre-prepared products that are not expanding allergens, and concentrate on producing organic products by using only locally available supplies. She carefully considered the localisation of her company, as she wanted to make sure she would contribute to improving recruitment issues in the agro-food industry by starting a company that would give young professionals the opportunity to work in this sector.
To fully develop her idea, Dominique needed to access additional financing through an EU-guaranteed loan provided by France Active, the French investments society, and backed by EIF. Today, Dominique is really thankful for having been able to secure a loan with France Active: "The EU-guaranteed loan really helped to build my project. I needed a substantial amount of money, and I would not have secured it otherwise."
Company: La fabric sans gluten (France)
Type of business: Food company
EIF financing: COSME LGF
For further information about EIF intermediaries in France, please refer to: http://www.eif.org/what_we_do/where/fr