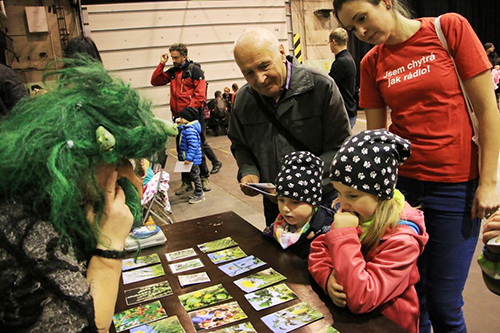 Among the many movies we see every year, most are swiftly forgotten. Only a handful will stay in our thoughts for years. It's those thought-provoking films that the founders of Juniorfest had in mind when they founded a film festival in the Pilsen region of the Czech Republic.
Concerned that high quality children's films do not reach the Czech public through commercial distribution channels, they set up Juniorfest, a film festival for children (aged 5-11) and youth (12-16) that has been taking place in November since 2008. It has since expanded to 5 different cities, attracting more than 15,000 spectators, the vast majority of whom are children and youth.
"All the films children see leave a message in their minds", explains Judita Soukupova, Festival Director. "For us, the best children's films are those that help children see things differently, becoming more tolerant, more courageous, more objective about their problems, and inspire them to be more ambitious in life."
In 2019, Juniorfest showed 136 films from around the world, particularly European productions. "We look for educational material, but not boring stuff," explains Judita, "The films range from comedy to drama and adventure, communicating strong messages on important themes like friendship, tolerance and open-mindedness, but also difficult subjects like divorce, race, and bullying. Difficult topics, but addressed in a sensitive way…"
Screenings are expensive, and make up the majority of the NGO's costs: a single screening could cost up to €700. Furthermore, there are shipping and translation costs. Translating the films for a Czech-speaking audience requires subtitling or live dubbing (for younger children). "The problem is that the invoices all arrive at the same time, and we are strapped for cash. Fresh financing from sponsors often takes until the new year to arrive and it's not easy to press them. This leaves us with a cashflow problem," Judita says. To bridge the gap, Juniorfest secured a loan from Komercni Banka, guaranteed by the EU and backed by the EIF under the Investment Plan for Europe.
Despite this effort being sustained only by hard-working volunteers, Juniorfest are upbeat about expanding and growing. The festival already includes workshops on topics related to film, like dubbing, stunt doubles, and more recently, cyber-security. "In the future we'd like to improve the quality of the content even more and spread to other regions of the Czech Republic," Judita concludes.
Company: Juniorfest (Czech Republic)
Type of business: film festival; audiovisual
EIF financing: Cultural & Creative Sectors Guarantee Facility (CCS), EFSI
Financial intermediary: Komercni Banka
For further information about EIF intermediaries in Czech Republic, please refer to: http://www.eif.org/what_we_do/where/cz