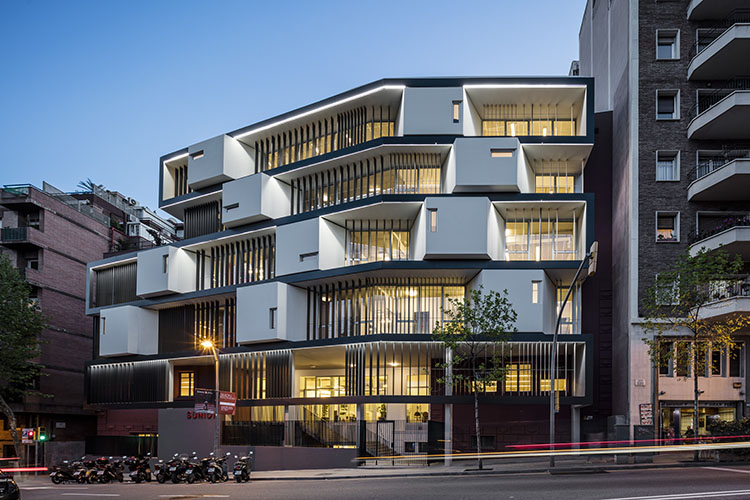 "Architecture is not just about space. It's about politics, economics, culture and society. It's about establishing relationships between people. There is always much more to architecture than meets the eye" says Miquel Lacasta, who co-founded Archikubik alongside Marc Chalamanch and Carmen Santana. An architectural firm based in Barcelona – or rather, in their own words, "an ecosystem of architecture, urbanism and urban planning," Archikubik collaborate as closely with philosophers and sociologist as they do with engineers, and place great emphasis on innovation in finding solutions for modern challenges.
"By 2050, 70% of the world's population will live in cities. At the same time, cities are responsible for 70% of our CO² emissions. I think we really need to work on improving the way our cities are structured…" he adds. "As an example, we are currently working on an urban project where 35% of the outdoor space is reserved for what we call 'km-zero' agriculture. That means growing food locally for the immediate needs of the surrounding area, thus minimising the need for transportation and related emissions."
Archikubik focuses on the constant development of synergies and exchanges between public space and private participative space, rethinking our cities from the concept of the e-polis, the polis of the information society, as a place for learning, debate, diversity, respect and exchange.
"The world around us is constantly changing. Things like ageing populations, the potential of robotics and autonomous vehicles, real-time big data and the decentralisation of energy production all affect the way we live our lives and interact in space. Our buildings need to be flexible and adapt to these changing realities," Miquel argues.
What is not changing, however, is the very particular business model of architectural firms: "When we work on a project, we're normally looking at 2-3 years before we see any form of return" Miquel explains, "and this creates cashflow problems. We somehow need to finance this gap." To bridge the gap, Archikubik received an EU-guaranteed loan through CERSA, backed by the EIF. "This gave us some breathing space and is important in improving our cashflow issues."
"It's a bit like the pharmaceutical industry," he adds, "we have a lot of up-front investment, like planning, design, studies, but the project will only deliver return at the end of this long cycle. And with all the political, social and economic dimensions of our projects, it's normal that these processes take a long time."
Company: Archikubik (Spain)
Type of business: architecture
EIF financing: Cultural & Creative Sectors Guarantee Facility (CCS)
Financial intermediary: CERSA (Avalis)
For further information about EIF intermediaries in Spain, please refer to: http://www.eif.org/what_we_do/where/es