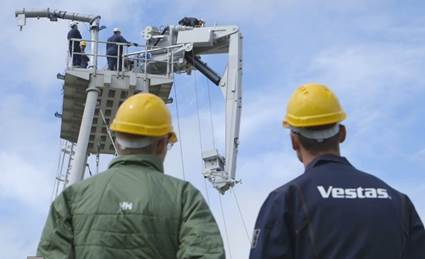 Lifting a piece of machinery from one location to another can be a challenge particularly when it weighs several tons. Imagine exchanging major wind turbine components weighing more than 20 tons on a wind
turbine 100 meters above ground level? This is Liftra's daily challenge.
Founded in Denmark in 2003, Liftra designs and manufactures tools and technology for heavy equipment handling and machinery servicing in the wind turbine industry. Liftra products are used by energy, service, logistics and production companies worldwide for a wide range of turbine brands and parts. The company employs 35 engineers at its Danish headquarters in Aalborg where it originally began providing equipment for wind turbine manufacturers in Denmark and Germany. One of Liftra's key products is the self-hoisting crane, which is both designed and patented by the company. It can be used for exchanging major components, like gearboxes or generators, on wind turbines.
In 2014 Liftra needed to partially finance a self-hoisting crane to operate primarily in its service business. They received a EUR 1.0 million loan from Nordea Bank in Demark which helped to finance first self-hoisting
cranes which helped to kick-start their now rapidly growing service business.
Company: Liftra ApS, Denmark
Type of business: Equipment supplier for the wind turbine industry
EU-guaranteed loan fromNordea bank: EUR 1.0m