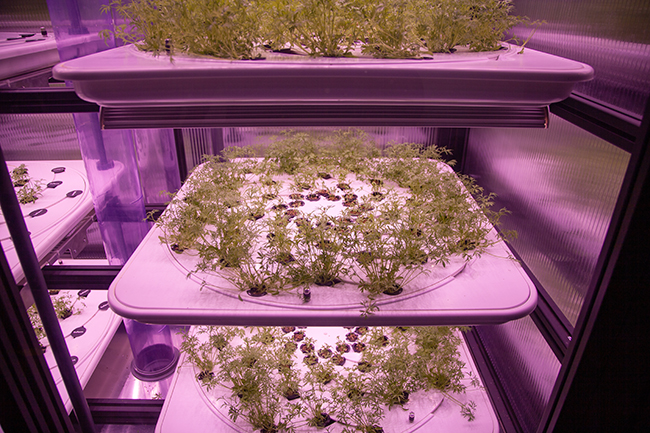 "Our food travels approximately 1500km through 28 pairs of hands before it reaches our plate, wasting enormous amounts of energy. One third of this food is spoiled in the process before it even reaches our plate," says Martin Weber, CFO of Infarm, a Berlin-based company founded in 2013.
So what can be done to reduce this environmental impact in a world that requires more and more food? Infarm proposes an approach whereby at least part of what we eat is grown as close as possible to the consumer, cutting out unnecessary energy waste for transportation and refrigeration, while reducing the need for pesticides and fertilisers.
In particular, Infarm has developed intelligent hardware and software solutions that allow for 'vertical farming' of leafy greens, herbs, lettuces and microgreens. Infarm runs highly modular indoor farming units that can be stacked in places like supermarkets, restaurants or warehouses. Each unit is fitted with sensors that monitor no fewer than 50,000 data points throughout a plant's growth cycle. "This information is relayed to the cloud, processed and we are then able to remotely adjust parameters like temperature, humidity, water and lighting in order to optimise the farming conditions, ensuring efficient and natural farming," explains Martin.
However, the technology behind this type of urban farming is complex and expensive, requiring substantial investments in R&D. In its early stages (2016), Infarm received an EU grant with which they were able to develop the product and move to the proof of concept stage. "The EU grant was extremely important because it also acted as a form of accreditation," Martin adds, "It signaled that we had a promising product worth investing in." Shortly afterwards, Infarm secured significant equity investments from two major venture capital firms, Cherry Ventures and Balderton Capital, both backed by the EIF under the EU's Investment Plan for Europe. "This helped us advance the product and scale-up, securing important clients. We hired close to 150 people in the process. At the beginning obviously things were tight. We could only offer minimum wage. But now we're able to pay proper salaries. We're already in Paris and will soon be in Zurich, London, Amsterdam and the USA."
Summing up the impact, the CO² footprint of an Infarm-grown lettuce in Berlin is 0.35kg, compared to up to 3.7kg for lettuce imported from abroad…
Company: Infarm (Germany)
Type of business: agriculture
EIF financing: RCR/own resources, EFSI
Financial intermediary: Balderton Capital; Cherry Ventures
For further information about EIF intermediaries in Germany, please refer to: http://www.eif.org/what_we_do/where/de/index.htm