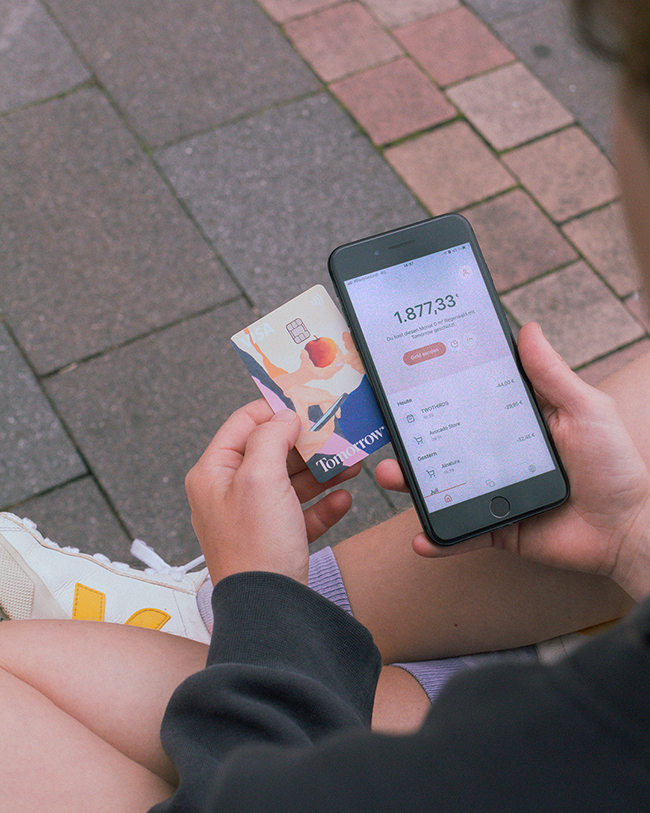 "At Tomorrow, not a single cent goes into armaments, coal-fired power or genetic engineering," says Michael. "We only finance sustainable projects. Every time you use your Tomorrow card, you're also making an active contribution to climate protection. This is how we create a better tomorrow, day after day," explains Michael Schweikart, co-founder of Tomorrow.
Tomorrow was founded in 2017 in Hamburg. "At the beginning, we were thinking about the impact that money has and we felt that it's moving the world in the wrong direction. For example, you would have thought things have changed, but since 2016, banks have invested USD 2.7tn into fossil fuels. We wanted to make it easier to create positive impact with your finances," says Michael.
Michael and his co-founders set up a sustainable banking platform, partnering with Solaris Bank, offering a current account with an impact. The Tomorrow community's deposits are invested in green bonds, which in turn invest in things like, renewable energy, renaturation, bike lanes, and microcredits to fund vulnerable entrepreneurs in the global south. "If you invest sustainably, say in water or energy, it's not the case that you are making less profit."
Tomorrow engages in a full impact investing process, starting with research, vetting criteria, making sure exclusion criteria are respected, checking reporting, transparency, and if UNSDGs are promoted. The company also allows users to monitor investments from their smartphone, including push notifications for every transaction, and insight at any time into the impact made by the Tomorrow community.
Bringing sustainability, transparency and technology together, in 2019, Tomorrow received an equity investment from ETF Partners, a venture capital firm backed by the EIF under the EU's Investment Plan for Europe. This has helped the company boost product development and the sales and marketing teams as they look to internationalise. "For the moment, we're active mainly in Germany, but we're are looking to expand to other Western European countries soon," says Michael.
"We need change on all levels if we want to succeed. Politics need to change direction, to get big capital flowing in the right direction. Behavioural change on the consumer side is also very powerful and often underestimated. Voting with your spending can definitely help bring about change. Similarly, our behavioural traits: do we really need a 5th pair of jeans? Overall, I'm optimistic. We believe a lot in innovation and things are moving rapidly. Politicians are also becoming more aware that they need to act. There's still conservative forces pushing, but sustainable powers are growing stronger everywhere," explains Michael.
Company: Tomorrow (Germany)
Type of business: environment; fintech; ICT
Financial intermediary: ETF Partners 
EIF financing: RCR mandate and own resources, EFSI sub-window 1
For further information about EIF intermediaries in Germany, please refer to: http://www.eif.org/what_we_do/where/de/index.htm