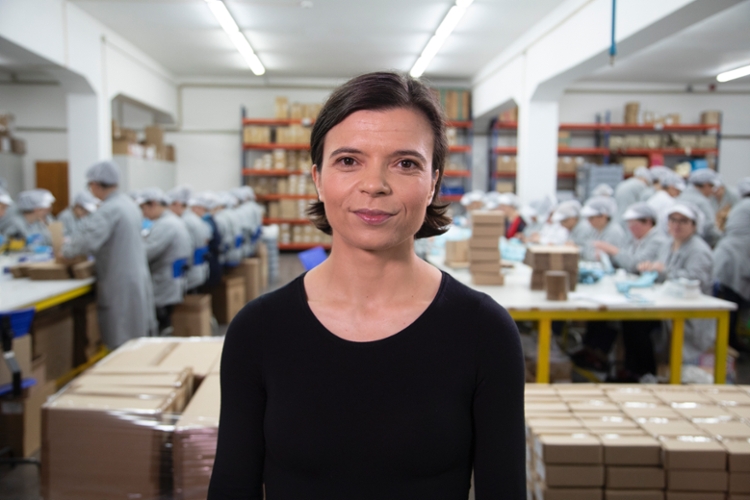 "We don't make soaps, we make gifts," explains Marta Araújo, CEO of Castelbel, a Portuguese manufacturer of high quality bath, body and home scented products that are made with the purpose of capturing the aromas, colours and ambience of Portugal.
"All our products represent elements of our culture and that's something we're very proud of. For example, the soaps have scents or shapes that are typically associated with Portugal, like filigree hearts or sardines. And the ceramic vessels have traditional Portuguese tiled patterns. We put a lot of ourselves into these products," explains Marta.
The name itself derives from the combination of the name of the small town where the company is located ("Castêlo da Maia") and the Portuguese word for beauty ("beleza"). Since it was set up in 1999, the company has grown rapidly to employing close to 200 persons (9 out of 10 are women) and exporting to over 50 countries across all continents.
Combining tradition with innovation, Castelbel has built up diverse portfolio, providing private label products for world-renowned brands like Anthropologie, Hudson's Bay or Avoca, custom-made products and of course its own brands. "We attach a lot of importance to hand-crafting according to traditional methods. Although we keep moving forward and spending heavily on R&D, we're not losing sight of our origins - our soaps will always be hand-wrapped," Marta adds.
Castelbel's growth was boosted in 2016 with a significant investment from Vallis Capital Partners, a Portuguese private equity firm backed by the EIF. As Marta explains, "Since Vallis came on board, we have increased the number of employees, solidified our presence in national and international markets, launched new products and now we are about to move to a brand new factory, which will significantly increase our production capacity."
"Castelbel is one of the best examples of entrepreneurship in Portugal with a very dynamic management team and a strong potential of growth. The company has been growing as fast as two digits per year in the past five years mainly due to its positioning towards external markets" says Eduardo Rocha, co-founder of Vallis Capital Partners. "We were and are very much aligned with Castelbel's management team and shareholders. From the outset, there was chemistry and shared values that reassured us we were making the right investment."
Company: Castelbel (Portugal)
Type of business: cosmetics & lifestyle/decoration
EU financing: PVCi
Financial intermediary: Vallis Capital Partners
For further information abiout EIF intermediaries in Portugal, please refer to:
http://www.eif.org/what_we_do/where/pt