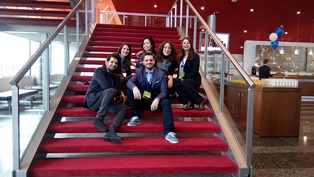 Antonis Argyros was 18 years old when he started his first retail business. After opening various sports shops in Athens, Antonis started thinking about the future of retail shopping in the new fasts pace modern society and digital economy. Antonis created the first online store and shopping website in Greece about 10 years ago. This marked the beginning of his quest to revolutionize the retail operations of brands and shop owners. In 2014, Antonis and his brother Stamatis took a step further and created Liater, a Greek company offering an interactive marketing solution via virtual fitting rooms.
After shops close and lights are turned off, it is difficult for customers to go through and try the articles available at a store apart from looking at its website. Liater's augmented reality based technology, using only a PC with a screen and a 3D camera offers the possibility to virtually try on all the clothes available at the shop. It is a new way to engage with people by creating an innovative and interactive brand experience. Liater's technology also offers consumers the possibility to take photos and share them on online through social media.
Liater's headquarters are located in Athens and the company currently employs three people, having also twelve developers and researchers working via an external partnership agreement. Antonis recently signed a contract with Athens' airport and virtual fitting rooms are already installed in some of the airport's shops. Liater's technology is present in Greece, in the US and will soon be introduced in the Netherlands with a pop-up store in The Hague.
In 2014, EIF-backed venture capital fund Odyssey invested in Liater at seed stage. In 2015, Liater was subsequently accepted to join the Dutch incubator Startup boot camp in Amsterdam.
Company: Liater, Athens, Greece
Type of business: Virtual fitting room application
EU-supported investment through Odyssey fund under the JEREMIE initiative
For further information about EIF intermediaries in Greece, please refer to:
http://www.eif.org/what_we_do/where/el