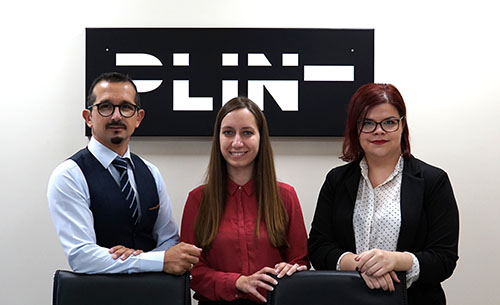 "Back when we started, people didn't really understand nanotechnology very well. That has since changed," says Dr. Alexander Tsouknidas, co-founder of PLIN-nanotechnology. "Nanotechnology offers a simple and effective way of having an active product with a small amount of active ingredients. For example, silver, copper or gold nanoparticles can be used in things like industrial paint, to introduce anti-bacterial or anti-fungal properties. The same for textiles, agriculture (e.g. biocides) or even electronics, where we can use nano-inks to print invisible circuits on screens."
PLIN offers practical nano-technological solutions for a wide range of applications, from concept to lab-work and product integration. But their current focus is pet products. The addition of silver or gold nanoparticles in pet shampoos and leave-on grooming products, can help with disease prevention or cure, wound-healing, flea and tick repulsion, or even regulating bacterial load in a pet's skin/fur.
But how does it work? As Alexander explains, "Gold nanoparticles act as a great carrier for other active ingredients like silk proteins, that will have the properties we want to use. Silver on the other hand is an active ingredient in itself. What's important is surface area. The difference between a nanometre and a metre is equivalent to the difference between a football and the earth. If you engineer silver down to the nanoscale, you can tune tis effectiveness against specific pathogens and still maintain it skin-friendly. The impact can be huge while using only tiny amounts."
A spin-off from the Aristotle University in Thessaloniki, building on more than a decade of research, PLIN thrives in its ability to produce nanotechnology solutions at low cost, thus making it attractive for use in consumer products. Alexander admits that, with time, there has been an important shift in mentality: "Initially we were mainly academics. Now we're focussing more on one the applied perspective rather than the theoretical perspective. Bridging mind-sets between the academic and business worlds was, for me, the most I got out of this effort. It helped me see things differently and that's invaluable."
A key part of this shift was Uni.Fund, a venture capital firm backed by the EIF, who invested in PLIN in late 2018. "They saw something in us that we couldn't see ourselves. One of the first things they pointed out was that we needed to focus on one thing rather than many. With their support, we were able to boost our business development, testing our products in smaller markets before scaling, and invest in a marketing strategy."
While sales are growing, the real break will come once the company manages to break into the US and Canadian markets. "Getting into North America, will make 2019 an amazing year," Alexander concludes.
Company: Plin Nanotechnology
Type of business: nanotechnology
EIF financing: Equifund
Financial intermediary: Uni.Fund
For further information about EIF intermediaries in Greece, please refer to:
http://www.eif.org/what_we_do/where/el