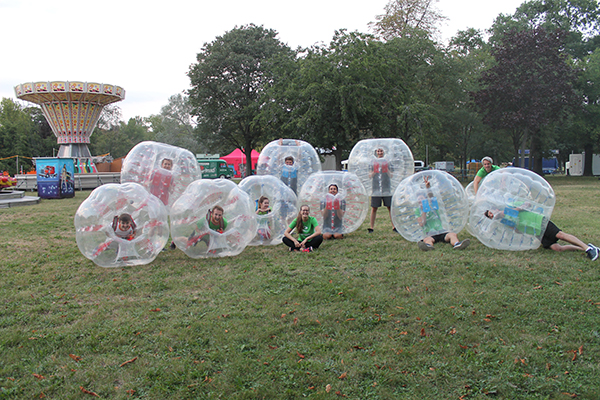 "There's no 'I' in the word 'team', is there?" asks Hanno Lippitsch, former professional volleyball player and currently CEO and co-founder of Eversports.
"In team sports, you can have great players but still lose against a crappy team – if they have strong team spirit. I've been on both sides in my career and I can tell you it's magical when you can get players aligned towards the same goal in an atmosphere of trust. Our company values strongly reflect this spirit."
Eversports, founded in 2013, has developed a marketplace app that enables users to find sports offers, book them and pay for them. "Our platform gives you an overview of the activities and facilities available in your city, covering more than 100 different sports, from yoga to tennis, football, squash or kite-surfing," says Hanno. "It's a bit like booking.com for sport. You can find out where to join a pilates class at 7am if that's what you're looking for, book and pay all in one go."
"It can be very hard to find available facilities when you want them. You have to check with several different sports providers," explains Hanno, "Personally, I was often frustrated when I was trying to find a court to play tennis after work – impossible! This difficulty is enough to put people off. The problem is that the harder it gets for people to practice sport, the more likely it becomes that they will choose to watch TV and order pizza instead," he adds. "Sports providers often think they're competing against each other. Actually, they're competing a lot more against the big screen."
Eversports' software offers benefits for sports providers as much as for sports enthusiasts: "Our software solutions help sports facilities and studios in digitising processes like accounting, book-keeping and website integration," explains Hanno.
In 2017, Eversports secured important investments from ENERN and Market One Capital, two EIF-supported venture capital firms. "We kicked off immediately. They were very excited about our company and we knew that they could give us a big boost and help us grow faster and more efficiently," says Hanno. "We doubled our staff numbers and professionalised our services, breaking our teams down into specialised units to reach out more effectively to new markets. We started in German-speaking countries, but we're looking to launch a pilot in the US and we're planning to expand to the Nordics, France, Spain and Italy. We make a great team."
Company: Eversports (Austria)
Type of business: sport, ICT
EIF financing: InnovFin Equity, EFSI
Financial intermediary: Central European Fund of Funds (CEFoF)
For further information about EIF intermediaries inthe Austria, please refer to: http://www.eif.org/what_we_do/where/at