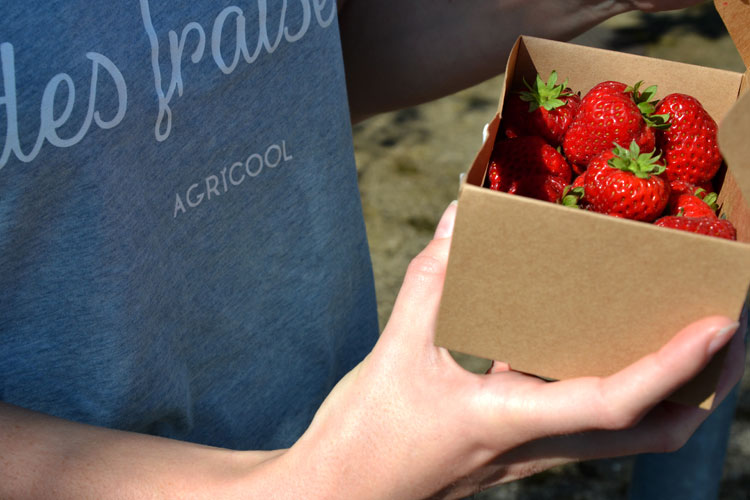 Guillaume and Gonzague, both from farming families in northern France, studied together in Lille. Moving to Paris, they were both frustrated by the lack of taste of fruit and vegetables in the big city. This is explained in great part by early harvesting in order to transport them over long distances. "Especially the strawberries," Guillaume comments "didn't taste of anything." The challenge would be to grow strawberries at a short distance from the consumer – in the city. "We invented a system that lets us grow tasty fruits and vegetables locally, without pesticides, and at a price that everyone can afford" he adds, explaining how they started.
Initially, they planted some strawberries in Gonzague's uncle's apartment – and they were really good. Soon, they moved on. At that time, in mid-2015, there was an old container sitting in the courtyard of Gonzague's parents' farm. "It seemed like the ideal solution," Guillaume explains, "it was time to turn those 33m² into a fruit and vegetable paradise. It's an environment that we can control, it's mobile, illuminated by LED lights and we've even introduced bumble bees. We called it the Cooltainer."
In order to develop the business further, and really put it to the test, Agricool sought an equity investment from Daphni, a fund backed by EIF under the EU's Investment Plan for Europe. "It was difficult to find financing for research and development", Guillaume explains, "but Daphni understood immediately that we could develop a method with the potential to radically change the way we eat and it all begins with research. We have since developed a very close relationship - they helped us hire the right people and are very helpful with contacts and networks." Most of this investment was used to recruit engineers and agronomists, with the company expanding to 45 employees.
Agricool is currently operating four Cooltainers in the heart of Paris, producing seven tons of strawberries per year per container. They are 120 times more productive than open-field agriculture, without pesticides or GMOs, using 90% less water and consuming only renewable energy. "Most importantly, it brings taste back to the food" Guillaume says.
Agricool are already planning to expand to other products like tomatoes, and other cities like New York and Dubai. With time, they plan to evolve into a franchise, with Agricool managing the containers remotely and allowing people to grow their everyday food with good taste and affordable prices.
Wrapping it all up, Guillaume claims that "with a healthy dose of optimism, a dream and some technology, we've given new life to strawberries, producing fruit like our grandparents used to… right down the street from our building!"
But, why strawberries? "Well, when I go to a meeting at 10am, it's much easier to hand out strawberries than, say, tomatoes. Everyone is happy to eat a strawberry, any time of the day!"
Company: Agricool (France)
Type of business: Agriculture
EIF financing: InnovFin Equity, EFSI
Financial intermediary: Daphni Purple
For further information about EIF intermediaries in France, please refer to: http://www.eif.org/what_we_do/where/fr