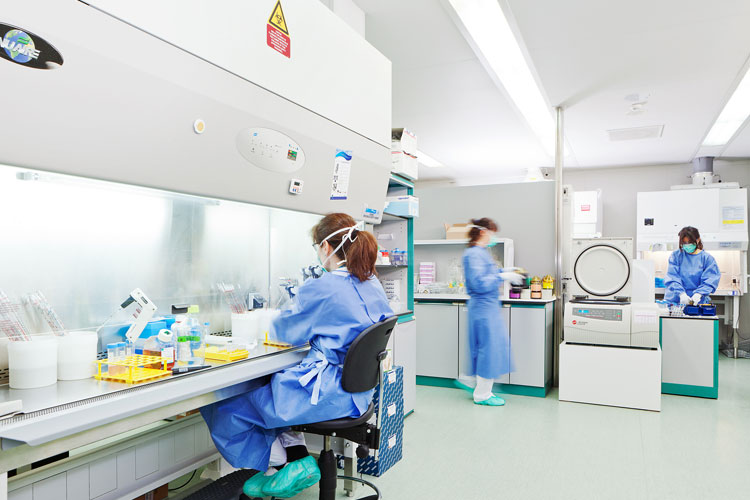 AELIX Therapeutics is a drug development company specialized in the development of a therapeutic vaccine (not to be confused with preventive vaccines) that will be used in cure and eradication strategies against HIV infection. "The vaccine will re-educate the immune system of patients so that they can control their HIV infection without further antiretroviral therapy" explains Jordi Naval, co-founder and Director at AELIX.
If this replaces traditional antiretroviral treatment, it could have the benefit of doing away with adverse side-effects, improving quality of life and also impacting healthcare budgets.
Based in Barcelona, AELIX is a truly European project, with partners all over Europe: Research partners in the Netherlands, regulatory consultants in Belgium and France, and manufacturing partners in Germany, the UK and Italy.
The company is a spin-off from IrsiCaixa, a public-private consortium conducting cutting-edge research in the field of AIDS and related diseases.  Set up in 2015, AELIX benefitted from an investment from Ysios Capital, which allowed the company to take key steps in the development of its product. With this financing, the company was able to finalise the regulatory and production processes, and proceed with clinical trials. "We are now in clinics, working with HIV patients and we expect results by mid-2020. If all goes well, our product could be administered to millions of HIV patients across the whole world" Jordi adds. It is estimated that more than 37 million people in the world are HIV-positive.
"We believe that AELIX's innovative approach has the potential to radically transform the treatment of HIV infection, still one of the largest health problems in the world," says Karen Wagner from Ysios Capital. "We were impressed by the science and the preclinical data. This may indeed help to improve the health of millions of people globally."
One of the benefits of equity financing is the expertise that comes with the investment and this is something that Jordi agrees with: "Ysios have added invaluable expertise to the company. They've been instrumental, beyond the financing, to the governance of the company, bringing a lot in terms of the 'right way to do things' both operationally and at the corporate level.
Company: Aelix Therapeutics (Spain)
Type of business: Life Sciences
EIF financing: InnovFin Equity, EFSI
Financial intermediary: Ysios Biofund II Innvierte
For further information about EIF intermediaries in Spain, please refer to: http://www.eif.org/what_we_do/where/es