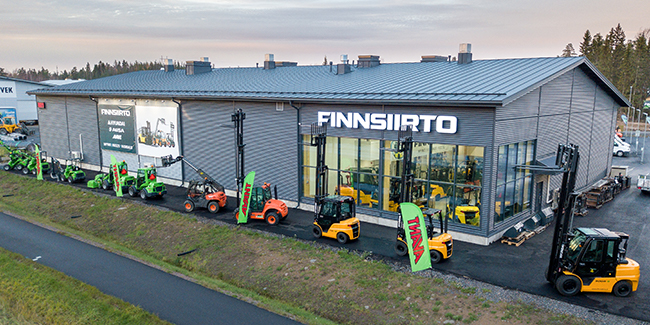 "Every day we have to think about how we can change our business, how to introduce small changes to differentiate from our competitors. This is how we grow our business. We need to stay ahead of the pack. Customers will respond to that. Every year we are changing a little bit and we're always trying to think what we would want if we were customers," explains Kalle Dahlman, Commercial Director at Finnsiirto.
Finnsiirto, based in Lieto, just east of Turku in Southwest Finland, is active in the field of professional forklift sales and logistics. Back in 2004 when Kalle took over the company, he looked to grow it from the outset. Initially, the company imported second-hand machines to Finland, selling forklifts. "With time, we set up a strong partnership with Hyundai and started to think a bit differently, focussing on fleets. Instead of just selling, we rent out machines to customers and offer servicing as well," Kalle adds. This allowed the company to grow very fast, importing, selling, renting and servicing. "Our client base is very diverse, from the metal industry to global logistics companies. Our smallest customer has only one small forklift. Our largest could have a fleet of 200 machines…"
In 2017, Kalle started looking for an investor to finance this rapid growth. "We knew what we wanted to do but didn't have any more money," he explains, until the company met Folmer, a private equity firm backed by the EIF. "After the first meeting, it was clear to us that both sides were ready. I think they saw people they could trust, who can deliver what we say we can deliver." The investment from Folmer allowed Finnsiirto to significantly boost volumes, strengthen staff, increase stock and build new headquarters. "It put us in a much stronger position," Kalle concludes.
Since then, the company has continued to grow, expanding business in the Baltics with a sales office in Tallinn. In 2020, Finnsiirto bought two other companies, Simeri and Suomen Telakone, with the three together forming one of largest machinery companies in Finland.
So, with this strong focus on change, when is the driverless forklift arriving? "Well, it's coming, but I think it's too expensive for the markets today. Digitalisation is changing our business in many ways, but in small steps. For example, we can better monitor usage of our forklifts today. But driverless…it's going to be a while." Kalle adds.
Company: Finnsiirto (Finland)
Type of business: Machinery
EIF financing: COSME EGF, RCR own resources
Financial intermediary: Folmer
For further information about EIF intermediaries in Finland, please refer to: http://www.eif.org/what_we_do/where/fi