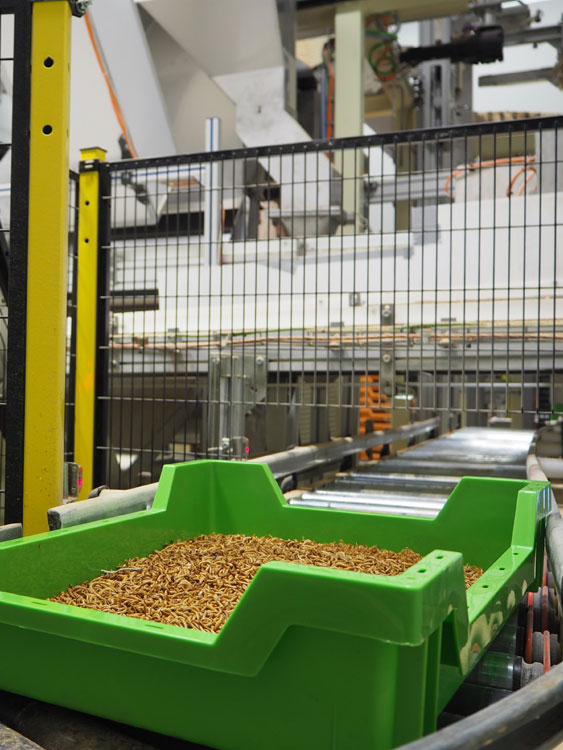 There is no getting away from it - meat has played an integral role in the 21st century diet and this trend is only going to grow. Global meat consumption has increased fourfold between 1961 and 2009 and the consumption of animal protein is forecasted to double between 2007 and 2030. Yet the fish stocks that feed our farm animals are in decline and the arable land used to grow the crops for animal feed is also scarce. Ynsect, a company based in the suburbs of Paris, is tackling this challenge head on by producing animal feed from insects.
Insects are very efficient animals. They grow fast, need little space and produce almost no waste. Indeed, insects have a tremendous ability to digest all kinds of biomass very efficiently. Once big enough to be harvested, they provide high quality materials like proteins and lipids (used for animal nutrition) and chitin (used for cosmetics, pharmaceuticals and water treatment). Even insect manure can be valorised as a fertilizer.
However, researching the value of insect-sourced protein is expensive. With crucial investments from Demeter and Emertec, both funds backed by EIF, the four founders of Ynsect were able to test their theory that mealworms could be used to upgrade organic material and make animal feed.
"Demand for fish and meat is increasing worldwide, and Europe is 70% dependent on imports" points out Antoine Hubert, CEO of Ynsect. "We spent a long time doing research and concluded that our mealworm can actually give fish a stronger immune system and faster growth rates. So we were confident that we could produce high-quality animal feed very efficiently."
Thanks to this crucial financing, Ynsect was able to conduct this ground-breaking research on the value of insect-sourced protein and then run a 3000m2 pilot-installation to test robotic-based technology and the product. "Without these funds, we wouldn't have been able to get very far. R&D in labs is very costly" explains Antoine. "At the same time, it's always difficult for a young start-up to clearly define its business plan in its early days and animal feed is a very specialised field, so securing the necessary financing from elsewhere would have been difficult."
This complexity did not scare Bernard Maitre of Emertec: "I already had experience working with micro-algae and when I heard about this team producing protein from insects, I just felt that I had to explore this opportunity more closely." Ynsect are now planning a new factory that will allow them to take their production to an industrial level.
Company: Ynsect (France)
Type of business: animal feed
EIF financing: CIP GIF 1
Financial intermediary: Emertec 5 & Demeter Partners