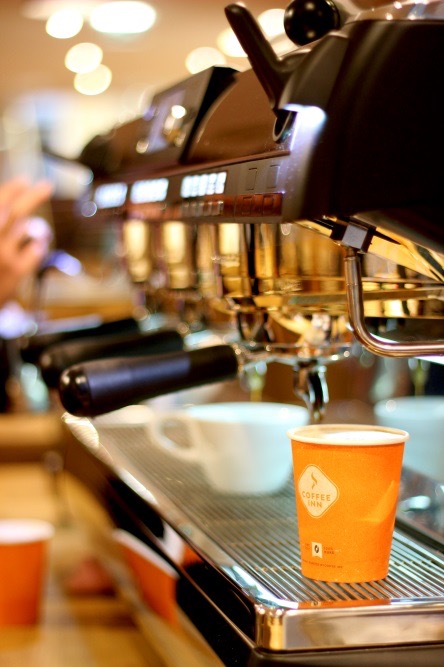 Whether you prefer a quick espresso or a creamy cappuccino, coffee is undoubtedly one of the most famous beverages in the world. Coffee Inn can satisfy that need. It is not like any other coffee shop, it has shifted Lithuania's way of drinking coffee.
It all began in 2005, when Nidas Kiuberis, Vytenis Kurapka and Martynas Serksnys decided to tour the USA. They got inspired by the very innovative and entrepreneur-led American environment and felt that they wanted to create their own company. Back in Lithuania they gathered one more friend, Vygantas Maksele who shared their enthusiasm and started looking around. They noticed that people carrying their coffee in paper cups did not exist in Lithuania (yet). So the four friends decided that they wanted to introduce the "quality take away coffee" concept to Lithuania. This led to the creation of Coffee Inn and the first shop in Lithuania became a reference for coffee lovers in the country. Coffee Inn was the first shop that offered quality take-away coffee brewed in house as well as the first that offered free high speed wifi to its customers.
In 2012, the EIF-backed investment fund BaltCap invested 1.5m EUR in Coffee Inn during the growth stage. Finding the appropriate partner was a long process due to the country's small size and scarce presence of investment funds. But according to Nidas, after several meetings they saw that BaltCap clearly understood their business model and that they wanted to help them grow. Since then, the company has doubled its size, having more than 40 coffee shops and 200 employees with a strong presence in Latvia and recently the first three Coffee Inn's opened in Tallinn, Estonia. "BaltCap was the right shot at the right time. It gave our company the energy kick to finally establish Coffee Inn as a leading coffee company in Baltics, expanding further in new markets," said Nidas.
Two years ago Nidas, Vygantas, Vytenis and Martynas expanded their business into a local coffee roasting unit that gives customers the chance to enjoy freshly roasted coffee and understand how the small green beans turn into a nice cup of coffee.
Company: Coffee Inn, Vilnius, Lithuania
Type of business: Coffee shop
EU-supported investment through BaltCap
For further information about EIF intermediaries in Lithuania, please refer to:
http://www.eif.org/what_we_do/where/ltu/index.htm