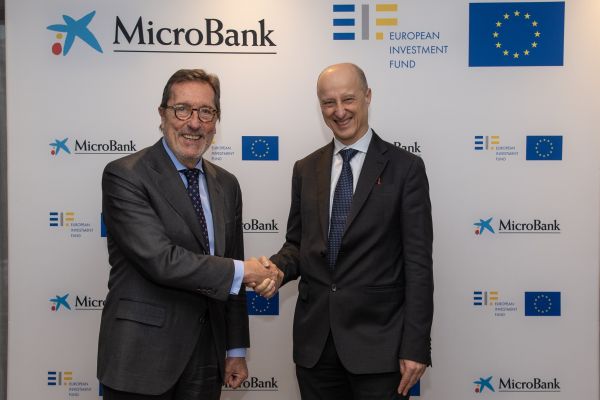 The European Investment Fund (EIF) and MicroBank have signed a social entrepreneurship guarantee agreement in Spain supported by the European Fund for Strategic Investments (EFSI), the core of the Investment Plan for Europe. This financing agreement was also made under the EU Programme for Employment and Social Innovation (EaSI).
This guarantee agreement allows MicroBank to launch a new product, targeting 500 start-up and developing social enterprises across Spain over the next 2 and a half years. Under this EU backed program, Spanish social-entreprises will be able to benefit from loans with better terms and conditions. MicroBank will primarily target start-ups and companies focusing on social and employment integration, autonomy and care for disability and dependence, the fight against poverty and social exclusion, intercultural activities and environmental protection.
EIF Chief Executive, Pier Luigi Gilibert, said: "We are delighted to be helping MicroBank to launch a new product for social-enterprises in Spain. MicroBank is a key player in the Spanish market for smaller companies and this agreement will ensure that additional social entrepreneurs can benefit from new financing opportunities. EIF has supported EUR 327m of finance for social and micro-entrepreneurs in Spain and we are pleased that the transaction today will continuing delivering sustainable finance to those who need it the most."
European Commissioner for Employment, Social Affairs, Skills and Labour Mobility, Marianne Thyssen, said: "I congratulate MicroBank on seizing the opportunity offered by the Juncker Plan to promote a more social Europe. Thousands of Spanish social enterprises will now benefit from better access to finance to launch integration projects and contribute to a fairer more inclusive Spanish society."
MicroBank President, Antonio Vila, said: "Thanks to the support received from EIF via this agreement, MicroBank will be able to strengthen its finance offer for social impact by launching a new credit line specifically adapted to the needs of social enterprises. We understand that offering long term financing with the need for a deposit will help social enterprises to benefit from the strong growth predicted for the coming years and the demand for their products and services."
The EaSI Guarantee scheme was launched in June 2015 and is funded by the European Commission and managed by the European Investment Fund. Social-enterprises wishing to apply for a loan under EaSI, can contact Caixabank branches directly.   
EIF will not provide direct financial support to enterprises but will implement the facility through local financial intermediaries, such as microfinance, social finance and guarantee institutions, as well as banks active across the EU-28 and additional countries that are participating in the EaSI programme. These intermediaries will deal with interested parties directly to provide support under the EaSI Guarantee.   
Investment Plan for Europe
The Investment Plan for Europe, known as the "Juncker Plan", is one of the European Commission's top priorities. It focuses on boosting investment to generate jobs and growth by making smarter use of new and existing financial resources, removing obstacles to investment, and providing visibility and technical assistance to investment projects.
The European Fund for Strategic Investments (EFSI) is the main pillar of the Juncker Plan and provides first loss guarantees, enabling the EIB to invest in more projects that often come with greater risks. EFSI has already yielded tangible results. The projects and agreements approved for financing under EFSI are expected to mobilise almost EUR 380 billion in investments, including EUR 45.4 billion in Spain,  and support 842 000 SMEs in the 28 Member States.
About the Programme for Employment and Social Innovation
The European Commission's Programme for Employment and Social Innovation ("EaSI") aims at supporting the EU's objective of high level employment, adequate social protection, fighting against social exclusion and poverty and improving working conditions. The microfinance and social entrepreneurship axis of the EaSI programme provides support to financial intermediaries that offer microloans to entrepreneurs or finance to social enterprises. The objective is to increase access to microfinance, which includes microcredit i.e. loans of up to EUR 25,000, in particular for vulnerable persons and micro-enterprises. In addition, for the first time, the European Commission is supporting social enterprises through investments of up to EUR 500,000. The microfinance and social entrepreneurship support is currently being implemented through the EaSI Guarantee, which enables financial intermediaries to reach out to (potential) entrepreneurs that would not have been able to gain finance otherwise due to risk considerations. It is also being implemented through the 'EaSI Capacity Building Investments Window' to reinforce the capacity of financial intermediaries in the areas of microfinance and social finance through equity investments mostly. The European Commission has selected EIF to implement the EaSI Guarantee and the EaSI Capacity Building Investments Window.
Furthermore, the Commission is reinforcing the social dimension of the EFSI for both microfinance and social entrepreneurship. Overall, the total amount of support to these areas is expected to increase (from EUR 193 million under the EaSI programme) to about EUR 1 billion, mobilising some EUR 3 billion in additional investment.
About the European Investment Fund
The European Investment Fund (EIF) is part of the European Investment Bank group. Its central mission is to support Europe's micro, small and medium-sized businesses (SMEs) by helping them to access finance. EIF designs and develops venture and growth capital, guarantees and microfinance instruments which specifically target this market segment. In this role, EIF fosters EU objectives in support of innovation, research and development, entrepreneurship, growth, and employment.
For further information on EU microfinance and social entrepreneurship support please refer to:
EU support to social entrepreneurship
About MicroBank
MicroBank is the social bank within "la Caixa" Group that specialises in microcredit. It is the only bank in Spain dedicated exclusively to financing projects via microcredits.  The bank pioneered this business model in the country and remains the leading financer of projects via microloans. The bank offers microloans to the self-employed, entrepreneurs and microbusinesses. It also provides personal and family microloans, which are aimed at assisting households to overcome temporary difficulties and supporting personal and family development. 
Press contact:
EIF:
David Yormesor 
tel: +352 42 66 88 346
e-mail: d.yormesor@eif.org
MicroBank:
tel: +34 93 404 2414
e-mail: prensa@caixabank.com 
European Commission:
Sophie Dupin de Saint-Cyr
tel.: + 32 (0)2 29 56 169,
e-mail: sophie.dupin-de-saint-cyr@ec.europa.eu