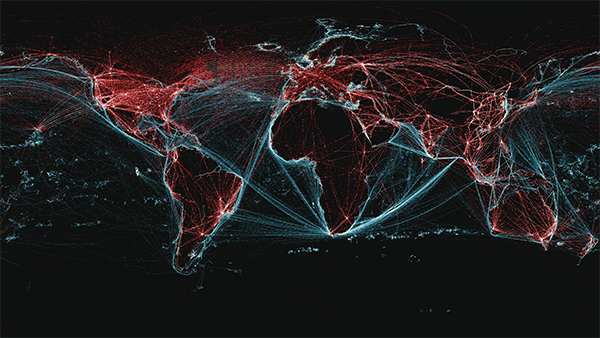 "When we started in 2012, nobody believed that this sort of thing could be done. So we kept a low profile – also to avoid being ridiculed, you know what I mean?!" says Peter Platzer, CEO of Spire Global.
Spire is a data and analytics company that collects data from space to solve problems on earth. Through one of the largest satellite constellations in the world, Spire identifies, tracks, and predicts the movement of the world's resources and weather systems so that businesses and governments can make smarter decisions. This data is useful in a diverse array of areas ranging from weather predictions to the maritime and aviation industries, government and the military, all the way to supply chains and logistics. You can follow everything from a storm to the air traffic over the Pacific or in and out of a harbour.
Everything started in a café in Strasbourg in 2012, when three students of the International Space University - Peter, Joel, and Jeroen – identified significant potential in the space industry and started plotting out their plan. "The human mind tends to think in terms of linear growth most of the time. It's almost counter-intuitive to think in terms of exponential growth – like in relation to the spread of a disease, or compound interest on a mortgage. But we had identified that growth in the space industry was turning exponential. So we applied ourselves…" Peter explains.
To gather its massive amounts of data and map out what's going on in the world, Spire doesn't rely on large satellites with large lenses and sensors. Instead, Spire uses nanosatellites the size of a loaf of bread, and small, power-efficient sensors (broadcasting TV or broadband internet would require high power). Staying in Low Earth Orbit (LEO) helps Spire take advantage of the number of sensors by passing over each place on earth hundreds of times per day. "Our satellites have software-defined sensors and we constantly upgrade the software, thus improving their performance with time, unlike other satellites that degrade with time. As they are small, we can cost effectively launch hundreds, ensuring high-resolution global coverage resulting in greater value from our data sets. On top of that, they are exceptionally green – designed to disintegrate in the earth's atmosphere within a few years, leaving behind no debris," he adds.
In late 2017, Spire received an important equity investment from the Luxembourg Future Fund, backed by the EIF, that allowed the company to boost product development and move into the next phase of its growth. "Setting up in a country that focusses on the space industry is a huge plus. Unlike other industries, only countries are authorised to operate in space, so we needed to team up with a country that understands the sector, the competition, and can provide an innovative regulatory environment and support for us to achieve our goals. We found that in Luxembourg." What's next? "We'll continue to broaden our data set. Right now, for example, we're looking at collecting data on soil moisture and surface wind speed for example," Peter concludes. Yes, soil moisture, from space…
Company: Spire Global
Type of business: ICT
EU financing: Luxembourg Future Fund (LFF)
Financial intermediary: Luxembourg Future Fund
For further information abiout EIF intermediaries in Luxembourg, please refer to:
http://www.eif.org/what_we_do/where/lu