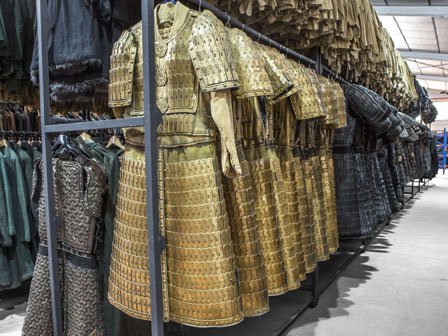 Peris Costumes dates back to a Valencian tailor named Peris, who started his own business in 1856, preparing costumes for theatre and opera productions. Peris then started to buy back the costumes after productions finished, adapting them in order to rent or sell them on. He later moved to Madrid, where the business has been based since.
A century and a half later, the trade is still going strong and the company's collection of costumes continues to grow. Today the company still designs, produces and rents costumes destined to feature in cinema, television, advertising or theatre. Under new management, however, an era of expansion and innovation recently began for Peris Costumes.
As Javier Toledo, President of Peris Costumes, explains: "We have been growing constantly. In 2013 there were no more than five employees. Now we have over 80 persons in the team, including tailors, stylists, designers and shopping experts, with production sites in Spain and Portugal and a business presence in six European countries. In 2017 alone, we were involved in around 85 different productions and turnover doubled compared to the previous year."
In order to keep up with growing demand, Peris Costumes makes important investments in broadening the collection. To that end, they sought financing through CREA SGR and CERSA, backed by an EIF guarantee under the EU's programme for the Cultural & Creative Sectors. This loan allowed the company to acquire new stock. They currently own more than 3.5 million garments, stored across 21,000m², including costumes used in productions such as Assassin's Creed, Murder on the Orient Express and the Netflix series Marco Polo.
With the business growing, the company is expanding operations and looking to establish new facilities in Bulgaria, Czech Republic and Germany, while constantly innovating in logistics and organization, with an efficient new barcode labelling system to help manage the vast collection.
So what are the chances of seeing one of their costumes when you switch on the TV tonight? "Well, I think that we are probably involved in around 35-40% of European productions" says Javier. Stay tuned…
Company: Peris Costumes (Spain)
Type of business: Costumes for theatre, cinema, television, advertising
EIF financing: Cultural & Creative Sectors Guarantee Facility (CCS)
Financial intermediary: CREA SGR (CERSA)
For further information about EIF intermediaries in Spain, please refer to: http://www.eif.org/what_we_do/where/es