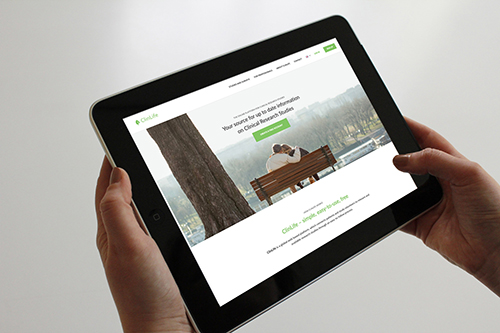 Clariness is about bringing medical innovations to market faster by accelerating clinical trials. Founded in 2005, the company has always focussed on bringing together big data and the field of healthcare.
"Clinical trials require a certain number of patients for efficiency and safety. They're an integral part of commercialising a new drug, and the longer it takes to get the product to the market, the less patent time a drug will have. Competition is fierce. Every day could cost a million euros – literally. Our platform can help speed up clinical trials by 3-8 months," explains co-founder and CEO Michael Stadler. "And there's also obviously a health dimension in terms of making available new, effective drugs to patients in need. We have a passion for digital solutions, but I don't think we could have set up a data-driven business in the field of debt collection!"
Clariness runs ClinLife, a free and easy-to-use website that helps patients worldwide find the most relevant clinical studies suitable to their medical condition. "There are many patients out there with conditions that have no cure," says Michael. "Anything from migraines to rare diseases or cancer. Maybe 40% of patients can find some sort of benefit from medication. The rest are looking for improvements. So what our platform does is match trials conducted by pharmaceutical companies with patients looking for cure. Sometimes I say it's a bit like booking.com, but for clinical trials.
Clariness can offer help with the preparation of clinical studies, finding the patients, retaining them and offering patients insights based on live data. "We wanted to introduce more transparency, clarity and openness into the clinical trials space, increasing awareness among patients, with public data and easy access." The company's name actually comes from clarity and openness…"
With up to 42 million visits annually, across 50 countries and 35 languages, the company is on a growth trajectory. In mid-2019, Clariness attracted interest and received an equity investment from Rocket Internet Capital Partners, a venture-capital firm backed by the EIF under the EU's Investment Plan for Europe. The investment helped the company develop the product further and open an office in China.
"As we generate more and more patient data, we want to look into feeding it back into pharmaceutical companies, to help develop drugs and design trials in a better way," says Michael. Clariness could play an important role in helping to overcome the coronavirus pandemic: "We've already had a first request for trials for a Covid-19 vaccine and we expect this to start in the summer. If all goes well, and the candidate is the right one, we might have a vaccine available sometime next year."
Company: Clariness (Germany)
Type of business: healthcare
EU-supported finance: RCR and own resources; ERP, EFSI sub-window 1
Financial Intermediary: Rocket Internet Capital Partners
For further information about EIF intermediaries in Germany, please refer to: http://www.eif.org/what_we_do/where/de