The pandemic has brought about unprecedented levels of uncertainty, insecurity and isolation, as well as an economic downturn that is hitting small businesses hard.
Despite market difficulties, and thanks to our valuable partnerships with EU Institutions, national and regional governments, and our financial intermediaries, the EIF has deployed a record amount of €12.9 billion in commitments to the market.
Responding to covid-19
Our continued engagement for financing of European SMEs was driven by the quick COVID-19 response measures – now extended across the main guarantee instruments until 30 June 2021; as well as our experience in delivering EFSI / the Investment Plan for Europe whose commitment period ended at 31 December 2020 after nearly six years of full successful deployment.
Further new, bilateral or multilateral measures launched in co-operation with EU Member States have served to address local challenges or complement Europe-wide efforts to alleviate SME financing needs from start-up to scale-up.
Overall, for every euro channelled via the EIF in 2020, over five euros made their way to small businesses across Europe.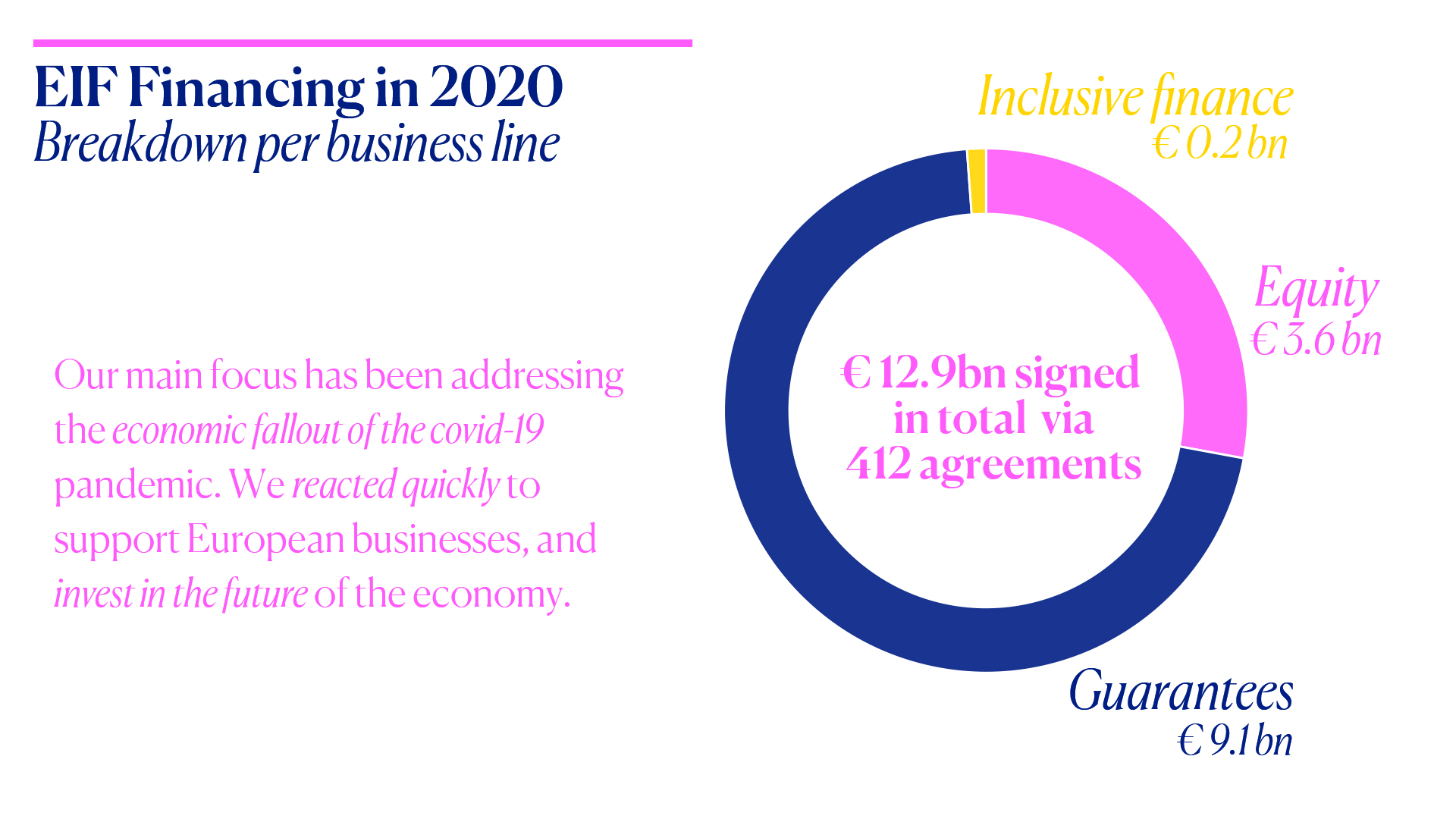 Launching the EGF together with the EIB
Alongside these efforts, the € 25 billion Pan-European Guarantee Fund (EGF) was designed and launched in the second half of 2020 as an EIB Group initiative. The EGF aims to fight the negative economic effects of the crisis, and is a testament of collaboration between the EIB Group and the Member States that financed it.
In the same way as other financial instruments managed by the EIB and the EIF, the EGF is deployed through banks, funds, national promotion institutions and direct lending to SMEs and funds across Europe.
Supporting new and emerging areas
We have remained dedicated to fostering innovation with clear priorities in the fintech, deep tech, space, blue economy, life sciences, health care and agribusiness sectors, while also ensuring support for traditional businesses in their digital transformation.
The EIF has created and deployed novel financial instruments that open up additional financing opportunities in skills and education, the creative and cultural sectors and overall, in making social impact, sustainability and social impact important aspects of our everyday lives.
We have taken concrete steps to adapt to the EIB Climate Bank Roadmap.
Read online our brochure to find out more.
"