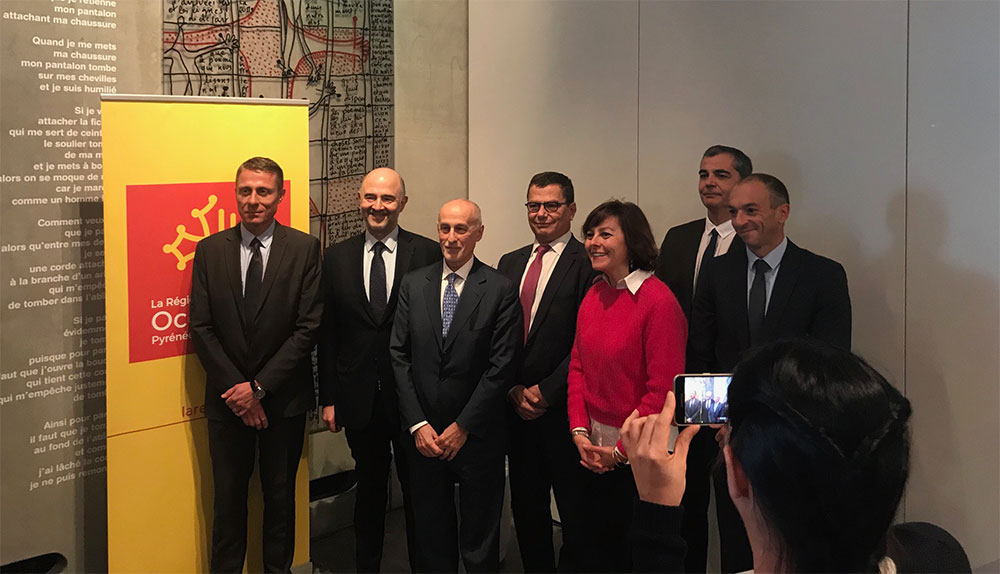 The European Investment Fund (EIF) has signed four operational agreements in Toulouse with Banque Populaire Occitane, Caisse d'Epargne de Midi-Pyrénées, IRDI SORIDEC Gestion under the Fund-of-Funds initiative - FOSTER (Fonds Occitanie de Soutien Territorial aux Entreprises Régionales), in the presence of Carole Delga, President of the Region Occitanie and Pierre Moscovici, European Commissioner for Economic and Financial Affairs, Taxation and Customs.
These agreements will enable the intermediaries to leverage public resources significantly, helping them to provide over EUR 485m of new loans and equity investment into SMEs in the coming four years.
Under the First Loss Portfolio Guarantee instruments signed with Banque Populaire Occitane (BPOC) and Caisse d'épargne de Midi-Pyrénées (CEMP), loans will be made available with substantially reduced collateral requirements and reduced interest rates. Under the co-investment instrument signed with IRDI SORIDEC Gestion, SMEs with high growth potential will be targeted. Occitanie is one of the leading regions in Europe in the field of research and innovation, with a special focus on the aeronautics, space and health sectors. The support of public resources is critical to maintaining and to building on the existing venture activity and thereby supporting an increased number of SMEs with high growth potential.
EIF also signed a First Loss Portfolio Guarantee agreement with Banque Populaire Occitane (BPOC) targeting final recipients active in the agricultural and agri-business sectors, making available up to EUR 54m of loans on favourable terms.
Overall in the Occitanie Region, it is expected that under FOSTER TPE-PME more than 6 000 SMEs will enhance their competitiveness and create new jobs through more than EUR 1bn of direct investments.
EIF Director General, Pier Luigi GILIBERT, commented: "I am delighted to sign these operations with financial players working closely with micro-enterprises and SMEs. With FOSTER TPE-PME, the EIF is pleased to join forces with the Occitanie Region and the EU to develop a real public/private financing ecosystem for companies and farms."
Bertrand Religieux, IRDI SORIDEC Gestion's member of the executive board said: "We are proud to have been selected by the EIF to launch a EUR 15m co-investment fund in Occitanie, complementing our new Irdinov 2 and Aelis Innovation funds and expanding our capacity to finance high-potential SMEs across our region. Our goal with Inn'Vest PME Occitanie Est and the two other funds is to finance the innovation and growth projects of around 50 SMEs in the region over the next five years."
Pierre TASTET, Deputy CEO of Banque Populaire Occitane, indicated: "I am happy that the European Investment Fund has chosen to place its trust in us once again. This is a result of our unwavering commitment to project promoters. The EUR 254m envelope allocated to our bank under this new programme launched by the Occitanie Regional Council will serve entrepreneurs that innovate and create wealth and jobs in our region."
Chairman of the Management Board of Caisse d'Epargne de Midi Pyrénées, Pierre CARLI, stated: "For Caisse d'Epargne de Midi-Pyrénées, the launch of the FOSTER TPE-PME fund is part of our determination to be a reference point for regional development. This commitment is part of a historic partnership with the Occitanie Region to serve the regional economy as the biggest financier of local authorities. Caisse d'Epargne is also very involved with the regional micro-enterprise and SME sector, and is dedicated to supporting them and sharing their entrepreneurial spirit. Together with the Region and the EIF, we are today taking a new step forward in helping companies, in supporting the players in our ecosystem that are innovating, investing and thereby contributing to the economic development of our region."
Carole DELGA, President of the Occitanie Region, concluded: "FOSTER will make Occitanie a European leader in financing assistance tools for companies, farms and forestry operations. This innovative programme with access to sizeable financial resources is the result of openness and successful cooperation between the Region, the EU, the EIF and financial partners in Occitanie/Pyrénées-Méditerranée. We are providing an essential contribution to developing the attractiveness and support of economic players in our region."
About FOSTER
FOSTER TPE-PME (Fonds Occitanie de Soutien Territorial aux Entreprises Régionales) is a new generation of fund-of-funds aiming to improve access to finance for final recipients, set up in cooperation with the French Occitanie Region (created following the merger of the Regions of Languedoc-Roussillon and Midi-Pyrénées) using its own resources and European Structural and Investment Funds (ESIF) resources. FOSTER TPE-PME is managed by EIF under the current ESIF programming period 2014-2020.
About the EIF
The European Investment Fund (EIF) is part of the European Investment Bank group. Its central mission is to support Europe's micro, small and medium-sized businesses (SMEs) by helping them to access finance. EIF designs and develops venture and growth capital, guarantees and microfinance instruments which specifically target this market segment. In this role, the EIF fosters EU objectives in support of innovation, research and development, entrepreneurship, growth, and employment. More information on the EIF's work under EFSI is available here.
About Banque Populaire Occitane
Banque Populaire Occitane is a regional cooperative bank created by entrepreneurs in 1893. It has always been able to meet the expectations of regional stakeholders and support businesses in their various development projects. It now has a network of 213 retail branches and four business centres dedicated to companies, spread across all the departments of the Occitanie Region (western part). As the premier banking partner for businesses in its region, Banque Populaire Occitane wishes to strengthen its role as a bank serving the region, continuing to promote local industry, commerce and society, and meeting all the lending needs of its customers, whether they be craftspeople, businesspeople, farmers, members of the liberal professions or SMEs.
About IRDI SORIDEC GESTION
A regional private equity pioneer with a history stretching back over 35 years, IRDI SORIDEC Gestion currently manages almost EUR 300m and has financial tools that can support SMEs at the creation, development or buyout stages in Nouvelle-Aquitaine, Occitanie/Pyrénées-Méditerranée. It relies on all of its public and private sector partners, remaining faithful to the DNA prevalent since the creation of IRDI and SORIDEC. With 21 professionals spread across three offices in Toulouse, Montpellier and Bordeaux, IRDI SORIDEC Gestion is at the very heart of its ecosystem and is a financial and strategic partner for businesses at every stage of their projects, serving regional development.
About Caisse d'Epargne de Midi-Pyrénées
Founded in 1818, Caisse d'Epargne is a bank with a committed local presence. Its 16 regional banks are involved on a day-to-day basis with the projects of their customers, providing tailored solutions. In the Occitanie Region (western part), Caisse d'Epargne de Midi-Pyrénées has eight business centres and 12 sales divisions. This extensive local presence together with its 1 700 employees make Caisse d'Epargne a major player in the local economy. With in-depth knowledge of the issues and specific characteristics of each region, advisers meet customers in dedicated spaces.
About the Occitanie Region
Occitanie provides day-to-day support to the stakeholders of its economic ecosystem. Its efforts have made it one of the most dynamic regions in Europe, with employment growing faster than anywhere else in France. The region is also an innovation hub, and has had a successful and constructive partnership with the EIF for almost ten years. This has produced the FOSTER fund, providing the largest-scale financing for micro-enterprises and SMEs in France to date. It is a pioneering programme for financing instruments dedicated to the agricultural and forestry sectors.
Press contact:
EIF:
David Yormesor
Tel.: + 352 24 85 81 346,
email: d.yormesor@eif.org